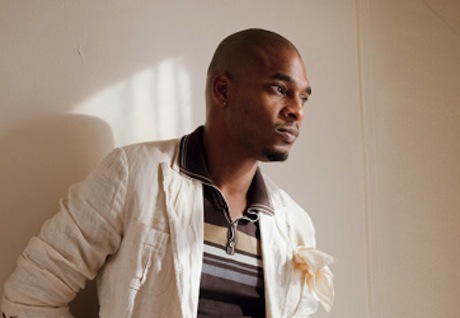 (Photograph of Terrance Hayes by David Armstrong from the NYT style magazine)
Could it really be? Or is it just that poetry (and poets) have become such curiosities in American culture that those outside of poetry circles don't know what else to do with them but put them on display (and put giant paper wigs on them)?
In the past week alone, and just in time for National Poetry Month, Oprah has bestowed upon us sandy, windswept poet-models; T, The New York Times' style magazine features a dapper Terrance Hayes (a commenter suggests Dolce & Gabbana create a fellowship to dress poets); and Ralph Lauren has launched a search for the next great poet under the banner of its Rugby line.
On her blog The Write Queen, Christina D. Rodriguez wrote about her own concerns when considering whether to enter (and her trepidations had nothing to do with her rugby prowess). The contest is problematic in many ways, from the award being some gift cards and "exposure" to dubious rights and licensing, but her post also addresses the image of the poet and what it represents, a running question present in each of the examples above.
I certainly do not write while looking like a Ralph Lauren model. Poets have their own style. Each and every one dresses differently. I know most of the poets entering this contest do not dress like that. Most of them probably can't even afford the clothing in that line (I know I can't).

The poet writes in their pajamas, late at night. They write in their work clothes on the subway. They write in their jeans on their way to class. A poet does not just dress like a Ralph Lauren model. I bet very few play Rugby.

This brings up many questions in my head. I was thinking about entering for a second, but then I had to really stop and think what this would mean for me as a poet. We all want to be known for our writing, but at what price? Is Ralph Lauren exploiting poets? Would this bring more exposure towards poetry and spoken word? Can a poem sell clothing? Is this really about the poetry?
Well, if you have to ask...