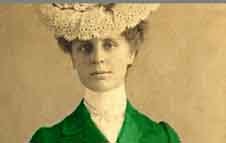 Color: grass green. San Francisco Chronicle few days ago ran first person excerpted account by Dr. Leonie von Zesch, 23-year-old female dentist (most likely one of the few women dentists in the world at that time) who left behind thousands of onionskin typescript pages (recently discovered in belongings of her niece Jane Troutman, now 85 and living in Beverly Hills) recording the days following 1906 earthquake. The writing is first-rate. The observations striking: on second day after quake, men and women lie either passed out or prone and drunk, lapping up liquor out of the street gutters (saloons had been ordered to dump all their alcohol) while others with hallowed faces carry their hastily rescued and strange belongings, chickens, carpets, heads of cabbages. Overhead, swallows dart and dive amid pieces of red-hot iron and burning flying roof before falling to the ground dead, some smoldering.
On the evening of April 17, 1906, Dr. Leonie von Zesch, in the habit of daily writing, goes to sleep as she would any other night in the Sutter Street home she shared with her mother. Foremost on her mind: the new dress she plans to wear to her Market Street dental office in the morning: grass-green, instep-length pleated: "I looked forward with a good deal of interest to the appearance I should make the next day; it would give a lift to one which would be otherwise like too many others." She comes off as slightly prissy, well-educated, well-heeled, sort of Jamesian (she is the daughter of a German countess). Two days later, after taking people into her home, she too must leave, knowing her home is going to catch fire. Dr. Leonie von Zesch (still in grass-green dress) takes only her goldfish aquarium and alligator bag with her to her dental office in the Phelan Building where she convinces firemen to let her into the high fiery roar of the building — which is also flooded with water, nearly gutted — where she quickly grabs her forceps and other dental instruments. She then gets on a passing wagon loaded with hay to make it to the Presidio, the central quake refugee encampment, where she will improvise a dental chair and lay out her instruments and work to tend first the wounded and dying, and days later those with simple toothaches.
Dr. Leonie von Zesch begins and ends this entry with grass-green color:
I don't recall where the wagon load of hay was bound for, but the driver let me off near the Presidio. I had with me my aquarium of goldfish and my alligator suitcase — our one piece of luggage. I wore the grass-green dress and the jaunty little hat with flower-covered bandeau that two days ago I had hoped might lend zest to a busy but unexciting spring day.
Grass-green at the beginning of the passage, grass-green at the end. The color functions allegorically. Stays embedded in the prose. A deep though flickering detail of saturated hue. Grass-green, the most promising of greens on the color wheel. Newly born. Dr. Leonie von Zesch perhaps a little vain, certainly privileged, but we cannot dislike her for long: she tends the needy, acts quickly and courageously. Plus, she writes well. Her life, all the lives around her, changed forever. Color as allegory, color as a foreboding omen, color as coincidence. Leonie: A Woman Ahead of Her Time, by Leonie von Zesch, forthcoming May with Lime Orchard Publications. (leoniethebook.com)
Jumpcut April 2011, into the deceptively casual style of Lynn Crawford's brilliantly refractive multilayered time-bent novel whose characters are spookily alive as though you could poke them nonvirtually lying in the bed right next to you or maybe they have walked down the hallway to escape you. Simply Separate People, Two, by Lynn Crawford, Black Square Editions & The Brooklyn Rail, 2011. Check out the color:
"Hi, one in an orange t-shirt says. "I am Chris, this is Dave." Dave
wears a green shirt. "Ah, hi," I say, moving my jawbreaker to the
back of one cheek. They look a little older than my older cousins.
They both stand up. I can see Chris is shorter than Dave. "What is
in your mouth?" asks the one named Chris. "Fireball," I answer. "Yes,
your mouth and lips look blood red," says the one named Dave.
Here the colors — orange, green, red, and the fireball jawbreaker we imagine to be so far sucked on that what's currently in the narrator's mouth is the very small very white very hot center ball with its red outsides worn off somewhat though not completely, patches and swirls of red still on the pale little globe in the cheek, the outer glossy red spread over the narrator's mouth and lips — are foregrounded. The colors are as central as the characters, occupy the same figure/ground. A sudden and surprising introduction as in real life when we stumble on someone new — and yes, this is the first time we meet these characters. Dave is green, Chris is orange, the narrator is a sucked-on fireball jawbreaker. When Dave notices narrator, green notices red. The colors seem to detach a little from the prose, float above it, removed and yet hovering over their objects and owners. All is primary. Nothing is muted. Color as charge. The eye has to shift fast and hard taking in each strong color. Color as many neurological synapses going off at once.
So next what if we think about The Powers of Ten, the short, 1977 film of Ray and Charles Eames. A film of nine minutes in which the camera zooms first out then in pausing every ten seconds to the next power of ten. Initial shot is of a couple resting on a blanket. Then camera zooms out to our understanding of them being on a picnic, then out and out to more powers of ten until we are in the limits of observable universe, then in and in and in to the edge of a single proton, the smallest portion of matter, and it is full, swimming to the brim, with color. (Blake's Infinite Writing: My Business is to Create, by Eric G. Wilson, University of Iowa Press, 2011.
P.S. To answer my own question (Question #2: What is your palette?) as promised I looked through most recent ten poems and my palette is primarily red, black, gold, yellow, and white, with less frequent occurrences of copper, green, ash, blue-black, orange, gray-green, and blue. Thanks to other poets who listed their palettes, and thought about how they mix their paints. And thanks to my daughter, Gillis Stansberry, who Adobe Photoshopped Dr. Leonie von Zesch's dress, and made it grass-green.
The daughter of radio station owner-operators, poet, editor, and translator Gillian Conoley was born in Austin, Texas. She was raised in Austin's rural outskirts, where "the only art around was film," Conoley recalled during a 2010 conversation with Sara Mumulo for The Offending Adam. This early exposure to film would...