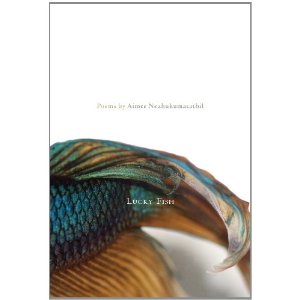 Aimee Nezhukumatathil's third book, recently released by Tupelo Press (which also published Miracle Fruit and At the Drive-In Volcano) affirms her reputation as one of the master miners of the curios fact in science, history, nature and culture. With unparalleled ease, she's able to weave each intriguing detail into a nuanced, thought-provoking poem that also reads like a startling modern-day fable.
For example, the poem "Foosh" (the medical term for "falling on out-stretched hand") spirals out into a series of "hand stands:"
I am a lucky fish. The kind that curls up red
and flimsy in your hand. And the broken center
of it is a spiderweb, threaded through a chico tree
to catch bats...

Cabbage butterflies can still soar if you pull

off their wings, but they cannot pivot
into curlicues like before. The sea snake
has no hands so it's no surprise
it rarely gets hurt.
The poem's final stanza takes a U-turn when the speaker affirms that everything that came before (metaphors for troubled relationships) adds up to a state of trauma and survival: "When I hear his name, / I put my hand over my heart when no one / is looking. I want to shield my heart/ from that familiar ache, save it, and I do — / with my little sorry and broken bones."
Nezhukumatathil's affinities are varied: she gravitates to the animal world and investigates snake hips, the two-headed calf, and sharks that "spyhop — elevating themselves vertical to see their surroundings above water;" she's drawn to places of wonder — to Hundred Islands National Park in the Philippines, to the Kansas prairie, to a houseboat in Kumarakom, India, and to the Center for Retired Great Apes in Wachula, Florida, where residents include Michael Jackson's neglected chimp Bubbles; and she pauses to smell the more exotic flora, like the purple-skirted corpse flower that — in this imaginative scenario — devours full-grown men. But in every case, these are not simply tourist stops on the map of oddities and marvels, but opportunities for reflection.
In the prose poem "Suppose You Were A Moray Eel," what begins as a conceit, weaving eel lore and superstition into a fanciful narrative, makes a dramatic turn with its sudden, introspective tone: "I am mostly blind, like you. Let us wait here in this coral cave and count the number of smelt that swim by. Let them go, all of them. Wait instead for what your thin veins forecast, what they decide to pulse for and why."
The third section of the book responds to the speaker's arrival to her newest landscape — motherhood. Though there are moments of tenderness ("my baby's foot feels like a hairless mouse that runs / along the edges of my shirt in search of crumbs / from my last meal"), Nezhukumatathil can't resist cultivating the startling finds in the world of parenthood (like a list of cures for acute infectious fevers) or weaving maternal joy with the dark facts of reality (keeping count of the days a mother waits for a toddler to learn to talk by watching the decreasing numbers of endangered animal species).
No subject is too sacred to poke or prod in Lucky Fish, and Nezhukumatathil's explorations unearth the most unique (and sometimes eerie) gems.
Hedgehog

The Book of Pregnancy Folklore says if
you accidentally step on a hedgehog
while you are pregnant, you'll give birth

to a baby and a tiny hedgehog. For weeks,
I could not shake this image and I wondered
where it could grow. Your hands were only

the size of a quarter and could the animal
rest in the center? Would you be pulled
onto my chest, clutching your new pet

as they swiped the casing from your eyes?
We have meadowsweet dried
and bunched above each doorway

and I know when we aren't looking,
your tiny hedgehog takes a bite. We lose
a little each day. And later when we leave

to church to pray for the uncle
I just lost, the war that won't end,
each other--I'm certain it will nose

around the kitchen, investigate the patterns
of furniture, ponder the new quiet, the absence
of your cry--eager to know what's afoot.
Rigoberto González was born in Bakersfield, California and raised in Michoacán, Mexico. He is the author of several poetry books, including So Often the Pitcher Goes to Water until It Breaks (1999), a National Poetry Series selection; Other Fugitives and Other Strangers (2006); Black Blossoms (2011); and Unpeopled Eden (2013), winner of a Lambda Literary Award. He...