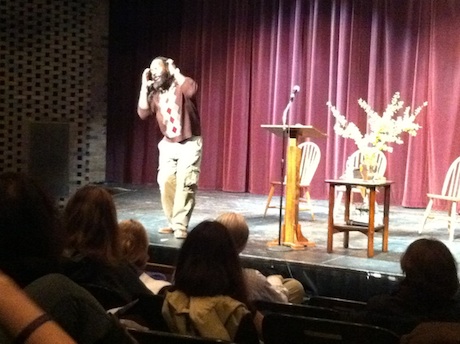 Last Saturday I read at the first (annual?) Westchester Poetry Festival at The Masters School in Dobbs Ferry, NY. I read with Victoria Bond, Jo Ann Clark, Brenda Conner-Bey, Lynne Francis, Jacqueline Johnson, Iyabo Ibo Mandingo, Jeffrey McDaniel, Tanya McKinnon Simon, Kathleen Ossip, and Donna Reis.
The festival began with a powerful performance by Iyabo Ibo Mandingo during which he performed several poems, including a poem about Amadou Diallo. Jeffrey McDaniel, the final reader in the final session, also read a poem about Amadou Diallo. The two poems made a powerful and moving contrast, or, perhaps, conversation, and I couldn't help but wish that they would be added to Claudia Rankine's important site where she has posted responses to her open call for writing about race.
In the middle of the day I led a workshop on collaboration in poetry with Jeffrey McDaniel. Only two people showed up for the workshop which was just fine with me. Jeffrey, the two poets, my 11 year old son, and I wrote an exquisite corpse together and also tried out an assembly-line exercise I dreamed up (one person comes up with the verbs, another the nouns, another the adjectives and one person writes four lines, the next person writes in between those lines, the next person cuts those lines down…). It felt a bit like a quilting bee, and there was time, while one or two people were engaged in making poems, for others to talk. It was in this quiet poetry space that I discovered that while Jeffrey and I love many of the same poets that he has visited poetry planets I never knew existed. When I described my tentative syllabus for next fall, Jeffrey kept saying, "why don't you teach ___?" And I'd say, "who?" And scribble down names. I realize I have a lot of reading to do and look forward to it!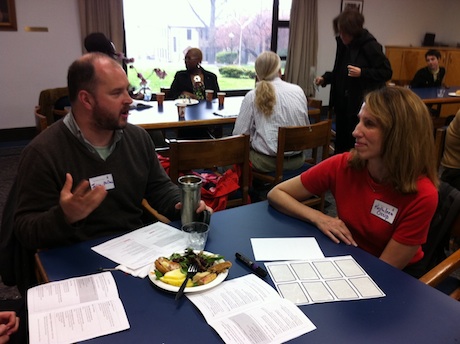 At the very end of the day all the poets gathered on stage for a Q & A. We spoke, mostly but not only, about performance and how many spoken word artists are also moving toward the page and how many "page poets" need to be more aware of audience. The question came up, as it often does, about why poets write or what we hope our writing will accomplish. I spoke (rather inarticulately) about having just reread and taught Naomi Shihab Nye and feeling re-inspired to aim high, to believe in art as a way of building empathy, of ending wars. Someone at the back of the auditorium in an effort to say why he thinks what poets do is important called out, "You speak of the time but you speak out of time."
Poet and educator Rachel Zucker was born in New York and grew up in Greenwich Village, the daughter of novelist Benjamin Zucker and storyteller Diane Wolkstein. She earned her BA at Yale University and her MFA from the Iowa Writers' Workshop.   Zucker's expansive yet lyrical poems interrogate and deftly...