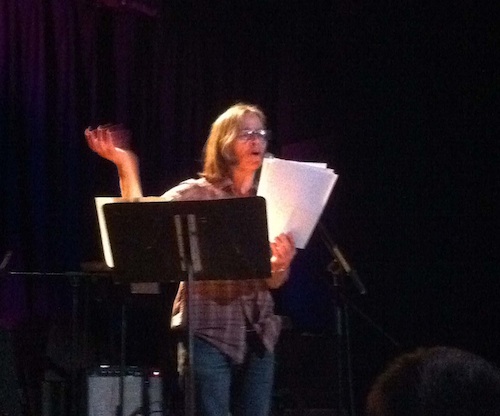 New York Press had a little chat with Eileen Myles last week about her then-upcoming appearance at the Music Hall of Williamsburg with none other than Sonic Youth frontman and poetry fanatic Thurston Moore, whose new album, Demolished Thoughts, has just released. Moore asked both Myles and Edmund Berrigan's band I Feel Tractor to open the show on Friday night. As Myles told the paper:
"My performing was Thurston's idea. He's somebody in music who is kind of a poetry groupie. He writes poetry and he's kind of an insane collector of books and people and texts—he's done publishing and orchestrated reading series. Basically, I was contacted and invited to be part of this show. I've been around as a poet since the 1970s and that's absolutely part of what I suspect is Thurston's focus. The New York and poetry world I entered, there was no break between poetry and music and everybody was doing both. In the '80s that shifted. . . ."
Myles was also curious about the audience:
This rock-poet thing is more a presentation. I seem like somebody who would be in a band. At this point in time, I'm more open to working with music that I ever have been."

"I have no idea how it's gonna be, but I'm hoping it'll be this surprising set. It's possible that it will be a really cool, great listening experience. I'm interested in having a completely different audience."
Today, the Press offers a post-show account, this time from the music-goer's perspective.
"And I suppose the lineup doesn't help my case much, a folk band with a propensity toward adorable instrumentation like singing saws and ukuleles, a poet reciting verse about Facebook and flash drives, and Thurston Moore, celebrating his 30th year as king of the New York noise rock scene with an acoustic guitar and a harpist. It's a strange mix, to be sure, but there's little room for doubt that its found its audience as the crowd hollers to the sounds of Eileen Myles alone on stage reading through sheets of white printer paper. "Is it true that the poet laureate is here?" she asks the dark room.

But it's Moore, backed by hand-picked group of indie rockstars from groups like Sunburned Hand of the Man and Hush Arbors, who has the Music Hall packed."
We beg to differ—having attended the show ourselves, we'll note that both Berrigan and Myles had at least 1/4 of the balcony occupied by proud poets and friends. (That's just got to be about 10% of the audience!) Best part could have been in line for tickets, though, as the kids next to us chatted about the state of being that is tractor. "What does that mean?" "How do you feel...tractor?" "Or...what does tractor feel like?" Yes. And certainly Berrigan's set was magic, opening the attention fields and poetry ears just lovingly enough for Myles to enter. A peeking open of the upstage door, and backlit in hazy blue, Myles stood for a moment to take in the house. Moving down to her mic, the showman stance came on sans hitch as she queried loudly about the whereabouts of a music stand (quickly rushed on by a PA). And was it us, or did the Boston accent switch into high gear as she performed new poems...to a rapt audience! To end the set (definitely a set, band or no band), Myles read the first section of Inferno, about which she has told The Rumpus:
I think the story of a woman becoming a writer is a female coming-of-age. The whole sexual coming-of-age that they usually use for men is like, going to a prostitute, or something. [In Inferno] the irony of somewhat being a prostitute in the first section is the flip side of that. That's not the story of how this narrator becomes a writer, but it's along the way. The story of becoming a writer is a coming-to-power sexual narrative. It's about not selling something.
It felt like an apt conclusion, especially for the large group of, well, large and raucous men listening near us. ("I think she got better as she went along." "Uh yeah, I liked that part at the end.") Sold? No matter, as stated. If the people pushing past us all show to get photos were any evidence, Moore chose the right poetry folks for the job. A seriously good night. (Photo by erica kaufman.)