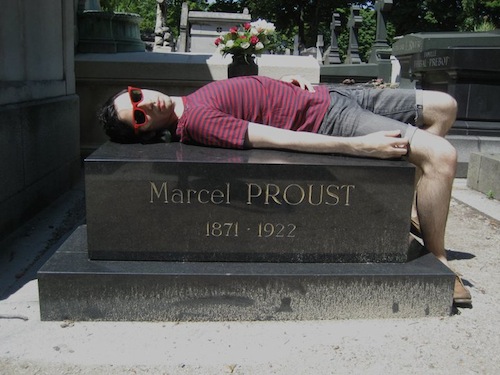 BOMBLOG has a terrific interview today with Alex Dimitrov, founder of The Wilde Boys: A Queer Poetry Salon, an elegant, monthly-ish gathering of mostly queer poets, students, scholars, and writers that often takes place in various apartments around New York City (invite only). Not simply an elite cocktail party, or even modern workshop, the salons are a revival of an 18th-century way ("I'd take a bullet for Oscar Wilde," Dimitrov says), a chance to discuss aesthetics and intention with poets and writers like John Ashbery, Frank Bidart, and Wayne Koestenbaum (who was a featured guest last night, in fact), among other younger and elder luminaries.
Dimitrov, a young poet who works for the Academy of American Poets and often writes for Poets & Writers (we also hear he's got a joint Twitter account with fellow fire sign Dorothea Lasky -- see @firesigns4life), talks about his guests:
Bidart's poetry is extremely important to me and to my development as a poet. I feel like he gave me permission to ask and honestly answer questions like—What are my subjects, What are my obsessions? What is important in life and how do I write about it? The big things—love, death, sex, religion. I mean, what else is there to write about really?" And on another living mogul of American Poetry, "John Ashbery coming to Wilde Boys was completely frightening and amazing. I don't really get nervous about meeting anybody, but he's different. He walks into the room and it's Stevens, or Eliot, or Crane—someone of that magnitude. I think we mostly talked about Paris and New York and who Frank O'Hara was sleeping with. . . .
Dimitrov is also intensely informed:
"I love the lengthy cocktail time before and after the poet of the evening speaks with us. It's then when I feel out the mood of the evening, when I realize I probably shouldn't have worn, oh I don't know, white leather (like I did the night John Ashbery came), and I know which of my planned questions to skip, and come up with others to ask in a matter of minutes. I prepare quite extensively. I read reviews, criticism, listen to audio of the poet reading, and watch videos. Having said that, I do know the work of the poet fairly well beforehand. That's one of the reasons they're invited. I usually start by re-reading the books of theirs I least remember and sections of those I most love, the poems I've quoted to friends, and the poems they've quoted to me."

As the salons continue to develop and grow, they have expanded from a small gathering of ten or twelve close friends to larger and larger groups. The Salons have existed as quiet meetings in tiny studios to catered events in lavish apartments on Fifth Avenue, all the while retaining the quality and timbre of the original intimate gatherings, calling back to the original model from past centuries. But as it progresses, Dimitrov also expands on the media and genre. "This past spring I invited two fiction writers for the first time, Michael Cunningham and Edmund White. It's a poetry salon, sure, but Michael's a poet's novelist in many ways. A lot of his friends are poets, he writes about poets in almost every book—and more importantly, the prose is beautiful. Same with Edmund White, who is important to so many young queer writers, no matter what genre they're writing in. And thinking of art in terms of genre is so boring. If it's good, it's good, and I want to read it and talk about it. That said, I do think everyone should be reading poetry and talking about it and using it in their pick up lines."
For more on the Wilde Boys salon, visit the BOMBLOG here. Oh, and have you heard bout the west coast Dirty Swan Projects? Issue #2 of The Swan's Rag includes another interview with Alex Dimitrov, in addition to poems, translations, and images from CAConrad, Bruce Boone, Bob Glück, Sara Larsen, Karen Weiser, Rob Halpern, Cedar Sigo, and others.