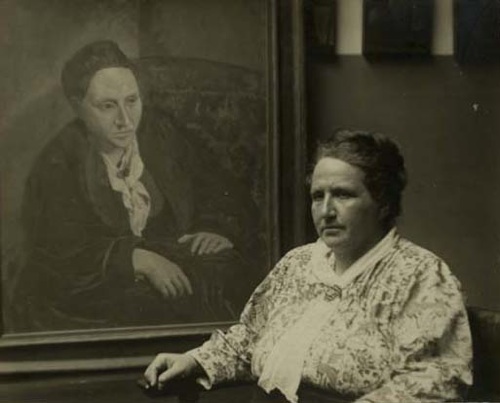 Last Sunday, a guard at the San Francisco Contemporary Jewish Museum's Gertrude Stein exhibit revealed a hazardous irony deficiency when he hassled a lesbian couple for being publicly affectionate. In honor of those women, and her recent surge in popularity thanks to Woody Allen's unlikely crossover hit Midnight In Paris, it's Gertrude Stein week here at Harriet.
You might want to relax with some Stein audio from UbuWeb, "the WikiLeaks of the avant garde," helmed by the perennially colorful Kenny Goldsmith. (While we're here: We think Kenny G would strongly approve of The Found Poetry Review, a new publication featuring a poem derived from a Wikipedia page.)
"We are always the same age inside."
Slam poetry celebrates its 25th year a couple of miles south of its birthplace, Chicago's Green Mill jazz club. Marc Kelly Smith, the forum's de facto founder and author of The Complete Idiot's Guide to Slam Poetry, broke the news, and will be on hand.
"Rose is a rose is a rose is a rose."
We found an intriguing article from New Zealand's Otago Daily Times about Kingsley "Akala" Daley, a performance poet and teacher who gets kids interested in Shakespeare by emphasizing the Bard's kinship with Jay-Z. If it sounds too much like Dead Poet's Society, check out the article – Akala knows what he's talking about and seems to be onto something.
"A feather is trimmed, it is trimmed by the light and the bug and the post, it is trimmed by little leaning and by all sorts of mounted reserves and loud volumes. It is surely cohesive."
It's always a good time to reread Ange Mlinko's piece on the poetry of birdsong. Spoiler alert: The smarter, more adaptive birds are the "experimental" ones.
On Oakland: "There is no there there."
Not anymore, anyway. The notoriously cash-strapped University of California Press has put the official kibosh on its New California Poetry series. We're not happy about this, but must mention that it had a great run, publishing Lisa Robertson, Brian Blanchfield, Juliana Spahr and countless other favorites and scoring a left-field hit in 2010 with Autobiography of Mark Twain. So it goes. Borders, too, has crapped out, obviously. Ponder that controversial development while shopping for dirt-cheap bookshelves at one of its massive fire sales.
"It takes a heap of loafing to write a book."
It takes a heap of stamina and ingenuity to promote a book of poetry. Our favorite hype this week comes from Publication Studio, preparing a web-savvy launch for Stacy Doris's long-delayed The Cake Part and from Les Figues Press, taking to Kickstarter to raise scratch for I'll Drown This Book, a collection of conceptual writing by women.
"If you can't say anything nice about anyone else, come sit next to me."
Who enjoys the precisely articulated schadenfreude of a particularly well-written negative review? We do. (Almost as much as we love Victorian poetry, although we can't always find anyone who wants to discuss it with us, and we get sad and lonely when that happens. Anyway....) So does Slate writer Robert Pinsky, who, in a triumph of Slate-y counterintuitive-ness, praises John Wilson Croker, the critic whose savage pen allegedly killed Keats, only to sort of back off by the end. We'd give Pinsky's piece a 6.7.
"Let me listen to me and not to them."
Poets don't always fare well under theocratic governments. Syrian poet and songwriter Ibrahim Qashoush, dubbed "the singer of the revolution," was assassinated by Syrian security forces in early July. (Be advised that some of those links may expose you to gruesome photos.) Ayat al-Qurmezi, a student poet in the kingdom of Bahrain, was released from prison early after receiving a year-long sentence for pissing off Sunni royalty, on condition that she keep her mouth shut from now on. We'll see how that goes.
"One must dare to be happy."
Perhaps taking a cue from a 2007 Gnarls Barkley stunt, The Washington Post has started a haiku contest with the endless debt ceiling controversy as a theme. It was inspired by a Tweet from Nu Wexlers, communications director for the House Budget Committee Democrats, with a #debtceilinghaikus hashtag that quickly trended. Let's get a few laughs out of this, people.