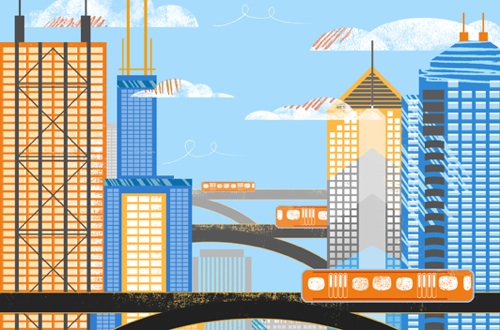 Poets & Writers has launched a series of online guides to literary cities! Portland, L.A., Boston and Chicago are first up. We're biased, so we'll focus on Chicago for now. Writes Zach Dodson:
Thinking of literary places in Chicago invites nostalgia. For this roundup I was tempted to fall back on some old clichés, to ride Stuart Dybek's El, or trace the footsteps of Nelson Algren or Studs Terkel as they canvassed seedy neighborhoods for stories.
But he restrains himself. Why?
These mythologies really have nothing to do with what's going on in the Chicago lit world these days, so instead I asked myself: Where do I experience literary Chicago? The answer: mostly bars.
Uh-huh. We know exactly what you mean.
Dodson continues:
Bars are also the settings for many of the city's best readings. The number of dynamic series is now so large it's hard to keep track. When readings started to slant toward entertainment (a backlash against "boring readings") a pressure cooker was created here, and series began to employ varied themes and devices, all meant to ensure that attendees of readings in Chicago have fun. So I thought I'd take a look at where this fun takes place, a pub crawl of the Chicago literary landscape, with a few stopovers along the way.
To join him on his tour—which includes such gems as the Hideout, Danny's Tavern Reading Series, and, uh, the Sunday Night Sex Show—click here.