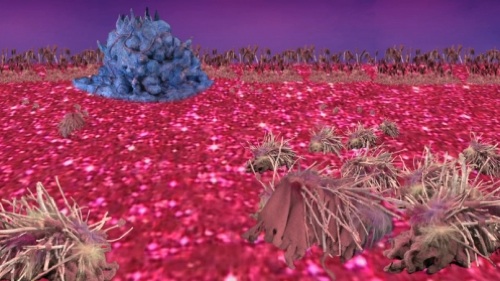 In the works from Encyclopedia Destructica and the The Institute of Extraterrestrial Sexuality—two of the best organizations you've never heard of—is a 300-page, full-color book and DVD called Strange Attractors: Investigations in Non-Humanoid Extraterrestrial Sexualities, featuring art and writing by 69 poets, writers, and artists like Anselm Berrigan, Sara Wintz, Christine Kelly, Amy Gerstler, Peggy Ahwesh, Ed Steck, Shana Moulton, and heaps of others! Whoa. From their Kickstarter:
While science fiction literature and film have often touched on alien sexuality, these encounters are almost always represented as between a human and a humanoid alien. Gender is almost always portrayed as binary even when it is homosexual. Sexual encounters consist primarily of engagements between two beings. Inspired by Kepler's (kepler.nasa.gov) voyage into deep space on a quest for earth-like planets, this project has gone beyond male and female, beyond queer, beyond any notion of gender, beyond the anthropomorphic to erotic possibilities as vastly varied as the universe itself. Discover what kinds of sentient beings, what types of sexualities, how many erogenous zones and types of erotic pleasure might exist out there in the universe!

We need your help to make this dream a reality! By supporting Strange Attractors: Investigations in Non-Humanoid Extraterrestrial Sexualities not only will you receive unique rewards, such as an amazing book/DVD like no other before it, but you will be supporting independent publishing and the distribution of imaginative and experimental, visual art, writing and film.
View spreads from the book, watch a strange video, see all the contributors, and learn more about donating to the project here. (Video still from Love Puddles by Michael Mallis and Mikey McParlane.)