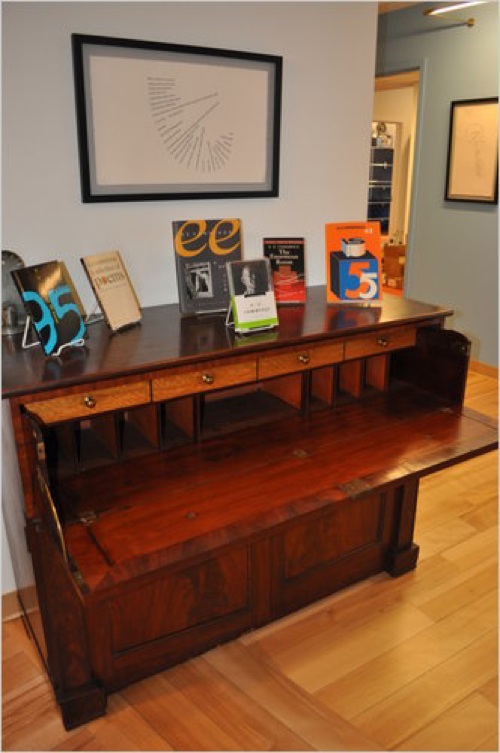 In a piece for The New York Times' Art & Design section, Eve Kahn comments on E.E. Cummings, who was famously reclusive when it came time to write. In his Greenwich Village studio and New Hampshire farm, "[h]ardly anyone was allowed in, and he cared little about the rumpled décor." We're allowed in now:
One relic of the poet's reclusive workspaces is now viewed almost daily with schoolchildren. Maryette Charlton, one of Cummings's friends, inherited his 1830s mahogany desk and has donated it to Poets House in Battery Park City in Lower Manhattan.

Staff members and visitors often recite Cummings poems around the boxy, austere piece, at the end of long rows of bookshelves in the library. Its unpretentious design reinforces a basic lesson about how literary careers start. "You sit at a desk and you write your poem," Maggie Balistreri, the librarian, said. "It's very democratic."

Some veneer chips are missing, and a crack has formed in the mahogany. "It has some condition problems, but nothing too egregious," Jude Hughes, a furniture conservator, said. He spent a recent afternoon crawling around the desk with a flashlight, along with John Hays, a deputy chairman at Christie's.

"This is a virgin-growth, unbelievable slab of mahogany," in a wood variant called plum pudding, Mr. Hays said; dark spots like raisins are scattered across the lid. The furniture maker, the Boston woodworker William Fisk, stenciled his name on the airtight poplar drawers. The poet, or perhaps his father, Edward, a Harvard professor, left a few ink stains in the cubbyholes.
And speaking of Poets House—and summer fun for the bespectacled, which is one of our favorite topics—check out their free showcase of all the poetry books that appeared in the last year, on view through July 30. The exhibit offers over 2,000 titles, "including volumes by individual authors, anthologies, biographies, critical studies, CDs and DVDs" published by "over 500 commercial, university and independent presses." Our glasses steam up in anticipation.