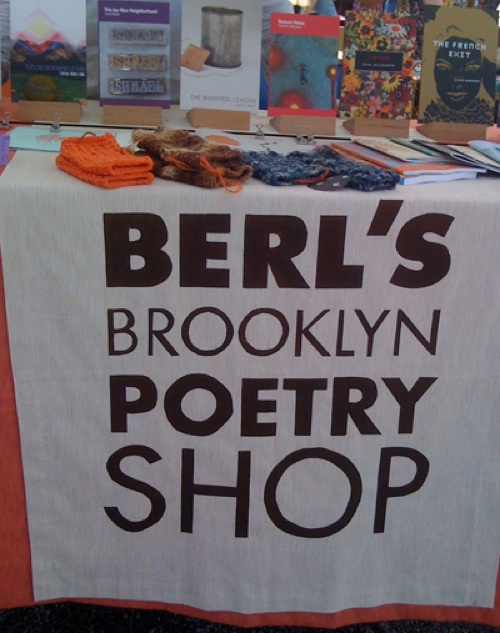 If you're one of the lucky hundreds who has spent a lovely weekend afternoon roaming the sensorial Brooklyn Flea, you might have come across Berl's Brooklyn Poetry Shop, a newish business venture run by poets Farrah Field and Jared White (also a happy couple and the great minds behind Yardmeter). And hooray, Berl's is currently the featured vendor of the Brooklyn Flea blog! What we learn from this is much. For one, it turns out that the shop is named after Jared's grandfather Berl, "a man who loved Walt Whitman and who was an inspiring entrepreneur in his own right," says Jared, "so it seemed a very fitting homage to name our shop after him." Also:
What inspires a couple to set up a booth at a flea market and sell poetry? Jared explains that it was "the incredible proliferation of limited-edition, hand-sewn (often even hand-printed) chapbooks as a medium of poetry that we've been discovering and participating in over the years." By joining the Flea family and avoiding the challenges of NYC brick-and-mortar real estate, Berl's was able to "cut right to the fun parts of book-selling: building an inventory, getting to know presses around the country, meeting customers, being out there in the community, sharing our passion." Jared says that the Flea has been rewarding on a number of levels: "We love the ongoing evolution of our booth, our friendships with other vendors and the opportunity to bring poetry off the shelf and into a space where it is unexpected, where it can bump up against the homemade and the handcrafted in all its incarnations."

Fleagoers' reactions to a poetry booth is part of the fun. "We've loved the wide range of shoppers we meet at the Flea: people buying birthday presents for parents and friends, curious readers, artists excited about poetry book arts, poets from Europe (even one or two whose poetry we actually had on our table!). We love how sometimes someone will come up who hasn't thought about poetry in a while and can rekindle their love for reading poems by exploring our table." They carry some fun and quirky poetry accoutrements as well, like Farrah's hand-knitted fingerless "poetry mitts" that are perfect for outdoor poetry reading and repurposed wool-sweater book covers.
The post even includes some original work from Field and White. Field and White! That's another good name for a business. Or perhaps a book of poems. If you're in New York, stop by the Brooklyn Flea and check out Berl's, which is in Fort Greene on Saturdays and Williamsburg on Sundays, both 10AM-5PM, rain or shine.