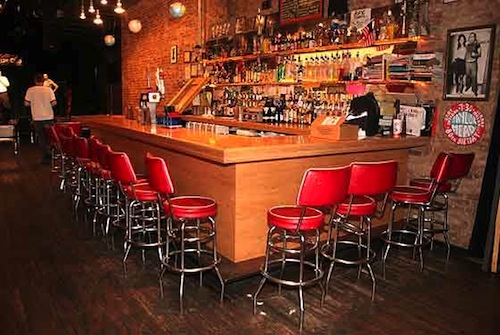 New York's Bowery Poetry Club is in the news. No worries, no petitions! Apparently, owner Bob Holman's plans to move the bar from the back of the club up to the front area--newly vacated by Bowery Beef--has strong opposition from Community Board 2. As New York Magazine's Grub Street reports:
...The board voted to hold another hearing on the application ahead of the next monthly meeting of the board's SLA committee (CB2's district manager tells Grub this is "standard procedure"). Zella Jones is one opponent of the plan: She says the club has "a very long history of things that aren't buttoned up right." She adds, "Originally they were going to be a strictly poetry club. That last about six months when [owner Bob Holman] realized he couldn't afford that. They've told me their most popular night is a gay and transgender bingo night. I'd like to know what that has to do with poetry." Holman wasn't present at the CB2 meeting — he says he's in Northern Wales learning Welsh for an upcoming PBS documentary on endangered languages — but told us yesterday via e-mail that his plan will help the club "comply better with some parts of the City egress code." He followed up with a second e-mail: "Believe me, the BPC is running as fast as we can to stay in place with all NYC laws."
Poetry may not be a moneymaker (wha? who? huh?), but the Bowery's still got it. Also popular, for instance, is the Segue Reading Series (the fall season starts this Saturday). There's also Bowery Arts & Science, an educational nonprofit sited at the club that's "dedicated to the preservation and enhancement of the oral tradition of poetry via live readings, media documentation and creation, and to elevating the status of poetry to that of its sister arts..." Good luck to all in sorting it out!