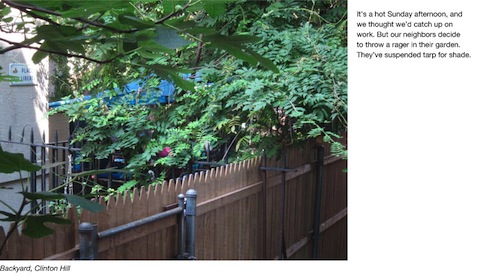 How about some walking and slideshows with your poetry? It's all over at the BMW Guggenheim Lab ("A mobile laboratory traveling around the world to inspire innovative ideas for urban life"). In "Local Worlds: A Bedford Avenue Slideshow," Jon Cotner and Claire Hamilton walked a three-mile stretch of Bedford Avenue (Brooklyn's longest street), and documented their encounters with people and places along the way.
In describing the project, Cotner writes:
Inspired by spurse's First Avenue walk, during which participants "cut across neighborhoods, ecosystems, and histories," the two of us walked a three-mile stretch of Bedford Avenue (Brooklyn's longest street), documenting our encounters and reflections along the way. Bedford contains multiple worlds. We started in Bedford-Stuyvesant, crossed into Williamsburg's Hasidic district, then passed into the Puerto Rican and Dominican section of the neighborhood before entering Williamsburg's northern part, known for its boutiques and restaurants.

This slideshow falls somewhere between [Stephen Shore's] American Surfaces and Japanese poet Bashō's travel journals. At its basis is the dual recognition that human beings learn their worlds best by walking, and that the walker exposes herself or himself to ceaseless surprises, ranging from the tragic to the tender and including the banal—which is still surprising. We couldn't have anticipated any of our encounters. Nor could we have imagined any of these blocks.
Cotner also narrates the visuals. An excerpt from a photo of foliage draped over a fence: "It's a hot Sunday afternoon, and we thought we'd catch up on work. But our neighbors decide to throw a rager in their garden. They've suspended tarp for shade." Watch the entire slideshow here.