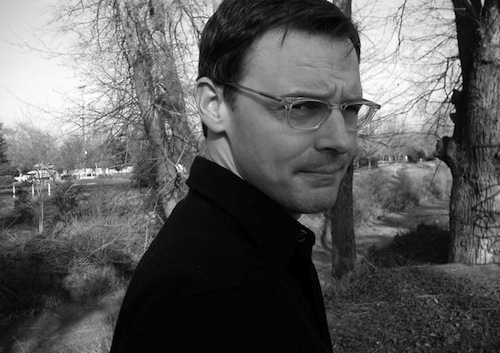 Poet Jared Stanley writes about the 2011 &NOW Festival of New Writing (subtitle: "Tomorrowland Forever!") at UC San Diego for his website, remarking primarily on his collaborative installation with artists Gabie Strong and Matthew Hebert, Transgressing in a Ribbon.
What is Transgressing in a Ribbon, I hear all your alveoli mutter? Transgressing in a Ribbon is the new project we debuted at the conference. Transgressing is an outgrownth of our LACE/Elysian Park Museum of Art installation, Eucalyptus Carvers. It continues our fascination with the Eucalyptus as this kind of emblem of the unsteady nature of Californian-ness as inscribed in the landscape. Are they "Native" plants? No. Are they "Californian" plants? Yes.

If you've ever been to UCSD, you know that it is positively overrun with a very particular species of eucalyptus, the Sugar Gum (Eucalyptus Cladocalyx). And further, you know that UCSD has a world-class sculpture collection, The Stuart Collection. What you may not know is that the eucalyptus on campus are vestiges of a commercial eucalyptus orchard which doubled as a penal farm. Add to this the fact that wilting sugar gum leaves give off cyanide (one of the reasons that the eucalyptus groves are nearly mono-cultural) and you begin to get a sense of why we were interested in this space, idea, natural history, and aesthetics of the place.
Speaking of artist Robert Irwin, whose piece "Two Running Violet V Forms" is in one section of the eucalyptus groves, Stanley writes:
Irwin is among a generation of LA artists whose primary medium was light. Irwin in particular drew from contemporaneous ideas about phenomenology and presence, and his writing about the Forms belies a terrific sense of California Zen:

"lovely changes of light and mood made it possible to do something very gentle here…The natural confrontation is that rare occasion with the unsuspecting potential for letting us 'see again.' Not art per se, or ritual, but perceptual interaction with 'phenomena' unattended or overly habituated—an art that calls us to attend to the pure potential in our circumstances as a whole piece. Here, the references of our knowing are not art history or the prior oeuvre of the artist, but rather the actual qualities of the situation and our 'being' in it."
Stanley goes on to describe his actual project in detail:
Transgressing in a Ribbon is a set of 13 banners, wrapped around 13 of the Sugar Gums in the same grove as Two Running Violet V Forms. The banners are made out of a black industrial waterproofing material, 1 foot high, and, laser cut with one line of text. The length of this line of text is determined by the diameter of the tree, which serves as a natural constraint. The banners are tied to trees in a broad arc pattern, which bisects Two Running Violet V Forms, both interacting with the sculpture and "cutting across it," as it were. During the Festival, visitors were provided with a map, which gave a broad sense of where to look for the next banners. Once installed, the banners were meant to resemble black armbands, signifying mourning. In order to read the poem, one must walk the grove. Further, in order to read each line of text, the reader walker must circumambulate the tree, both focusing the attention on the text as well as giving rise to an embodied experience of the tree and the space.

The text was written with two competing ideas: to create a complete 13 line poem, as well as to write a text that described or interacted with the immediate environment of the tree upon which it appeared. For example, one of the trees leans, at a very acute angle, over an asphalt path through the grove. The text on this tree's banner "arc in my dead zone" both describes the angle of this particular tree, and also contributes to the overall text of the poem, which goes a little something like this:

[Rock On]

C'mon psychopomp, let's go
confuse death with saplings
or map the inflorescing
soul, a rip in my look
point a fluttering weed at

a point fluttering a weed
a helix of cross-purposes
bend through the orderly

arc in my dead zone
alone by the culvert
our balding copse

breaks out in shapes
your human mockingbird's face

([Rock On] refers to some graffiti carved into the first tree.)

The text is very loosely based on Canto XIII of The Divine Comedy, the Wood of the Suicides, one of the most powerful and affecting moments in that whole powerful and affecting book. Here's an accessible primer on that Canto, if you're interested.
Stanley continues on to talk about his experience at the conference (day two was "...gonna be a grueling one, because we needed to record our 'Innovation in a Box' performance, lead an artist talk/walk-through of the Ribbon, and, for me, participate in Scott's play, How to Be Intimate With a Narcissist"). Read his full report here. And if you're in New York, you have a chance to catch Jared Stanley reading tonight at the Poetry Project, with Harmony Holiday.
And read the call for proposals for &NOW 2012, which will be in Paris!