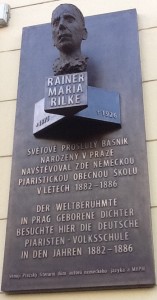 According to this article from The Prague Post:
The first public monument honoring the German-language poet Rainer Maria Rilke, born in Prague Dec. 4, 1875, was unveiled at 16 Na Přikopě St. Dec. 7.

The sculpture, by Vlasta Prachatická, is mounted onto the facade of a former German school Rilke attended as a child. At the ceremony, Director of the Prague House of German literature Lucia Černohorska compared Rilke's literary legacy to another German-language writer from Prague, Franz Kafka, but lamented that "to this day, this important poet had no bust or statue in his Prague, so we decided to take this task on our shoulders."
If you're in Prague, please give that noggin a rub for good luck. For us.