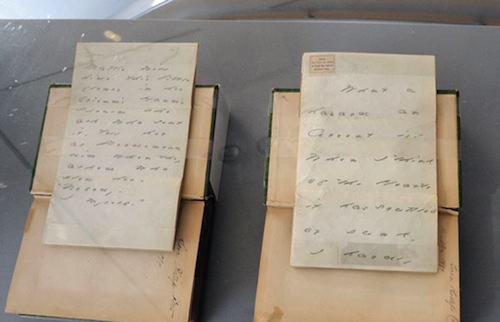 Good news! Just extended until February 18 is Emily Dickinson at Poets House: Manuscripts from the Donald & Patricia Oresman Collection. Curated by poet, artist, and professor Jen Bervin, the exhibit provides an exceptional, detailed look at Dickinson's radical composition -- on view are rarely seen fragments, letters, manuscripts and books. As Downtown Express reports:
Bervin said that Dickinson's visual sense would have made setting her poems in print difficult before the advent of modern technology. She worked throughout her life "with a very strong sense of visual composition," Bervin said, "but in the late fragments [from 1870 to 1886], it's absolutely stunning. The text is multi-directional. She's composing on envelopes that are then sometimes shaped in particular ways. I don't know of anything like them. The texts on those envelopes are pretty mind-blowing. Sometimes you see them in letters. Sometimes you see them in poems. Sometimes they exist only in that fragmentary form, but they're just extraordinarily beautiful."

Bervin explained that Dickinson would place "crosses" in her poems that correlated to words or phrases grouped at the end that could be substituted within the poem to create different meanings. Bervin compared Dickinson's methods to hypertext.

"She chose not to publish," Bervin said. "Her readers were very carefully chosen. She sent her poems in letters to specific recipients and she would send out different choices for different recipients and then in her own private draft, she might have even more choices. So it's a very complex system. Our idea of a poem is that it's one thing but her idea of a poem was that it seemed to be many things. She used words according to who was listening. I think it's utterly fascinating that one of our major American poets chose to compose in this particular way."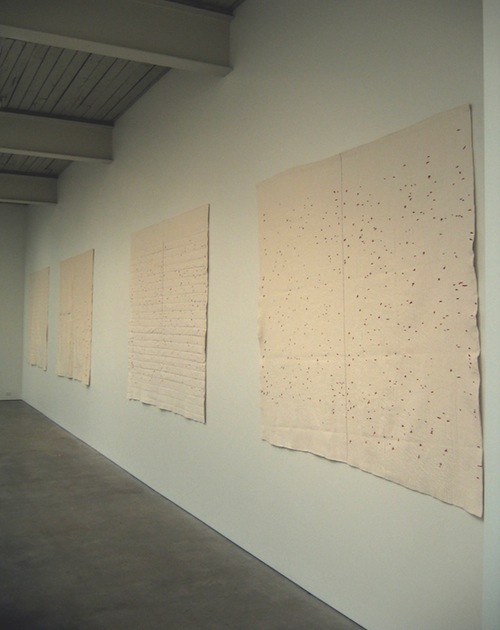 Also up on display are three of Bervin's handmade quilts (above in a different setting), created to depict Dickinson's unusual compositional method. Bervin and Dickinson have long been entwined -- visit the artist's website for more gorgeous pictorial evidence of this recent project, The Dickinson Fascicles, "[a] series of six large scale embroidered works by Jen Bervin based on composites of the punctuation and variant markings in Emily Dickinson's poetry manuscripts." Bervin writes of the Fascicles:
I wanted to see what patterns formed when all of the marks in a single fascicle, Dickinson's grouping of poems, remained in position, isolated from the text, and were layered in one composite field of marks. The works I created were made proportionate to the scale of the original manuscripts but quite large—about 8' wide by 6' high—to convey the exact gesture of the individual marks. I scanned Dickinson's manuscript facsimiles (about twenty pages per fascicle), edited them digitally to form composites of just the marks, and used a projector to transfer the marks onto cotton batting (to suggest a highly magnified page) prepared with a hand-sewn center line (a stand-in for the folio fold) and machine-sewn lines that replicated those of the light-ruled laid paper or blue-ruled paper. I embroidered Dickinson's marks in with handspun hand-dyed red silk thread.
Granary Books also published Bervin's works as a limited-edition artist's book, The Dickinson Composites. "Choosing to circumvent what seemed like an intractable editorial situation, I tried to make something as forceful, abstract, and generously beautiful as Dickinson's work is to me," Bervin wrote. Force is a key word here; she also used it in regard to the exhibit: "[Dickinson] was a force, an absolute force. There's a vastness to her work that is comparable to how you might feel in an extraordinary landscape. It makes you feel very small and very humble in relation to it."
Poets House is at 10 River Terrace in Battery Park City, New York. It is open Tuesdays through Fridays from 11 a.m. to 7 p.m. and Saturdays from 11 a.m. to 6 p.m.