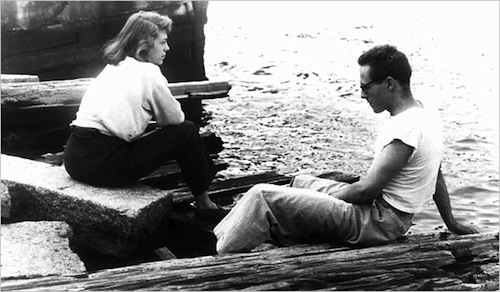 We briefly mentioned the passing of legendary publisher and provocateur Barney Rosset the other day, and now we'd like to point to some worthy reads about the man. At the Los Angeles Review of Books, Loren Glass writes Parts I and II of Rosset and the history of Grove Press. Part I discusses the fifties, starting with the publisher's upbringing in Chicago and his college study of Henry Miller (which would later serve to assist his win in the obscenity trial of the Tropic of Cancer), among much else. Rosset's interest in Miller was just the beginning:
Rosset wanted to make the freedoms Miller found in art available to everyone. With Paris as his primary resource, New York as his home base, and the booming American university population as his audience, Rosset's signal achievement with Grove Press and the Evergreen Review would be to take the avant-garde into the mainstream, helping to usher in a cultural revolution whose consequences are with us still.
Later, in 1942, Rosset enlisted, and "[w]ith a copy of Red Star Over China close at hand, Rosset ran the only American film crew in the region." Glass writes that "[a]fter the war, Rosset returned to Chicago, joined the Communist Party, and hooked up with a Parker schoolmate, the painter Joan Mitchell." More on Mitchell and the early days at Grove:
Rosset followed Mitchell first to New York, where she introduced him to her circle of friends, the Abstract Expressionist painters who were in the process of stealing the idea of modern art from Paris, and then to France, where the two would marry. According to Rosset, witnessing Mitchell's development as a painter transformed his understanding of the visual arts: "If I have any taste today, or any emotions about art…it's all thanks to Joan." When they returned to New York in 1951, they began to drift apart, but remained friendly; it was Mitchell who heard about Grove and encouraged Rosset to purchase it. In that same year, Roy Kuhlman, a painter on whom Mitchell had been an influence, came to the Grove offices to show Rosset some ideas for book cover design. Rosset was initially uninterested in his portfolio, but as Kuhlman was leaving he accidentally dropped a 12" by 12" piece of abstract art he intended to pitch as a record cover to Ahmet Ertegun. Rosset immediately saw what he wanted. Steven Brower and John Gall have called the collaboration between Rosset and Kuhlman, which lasted for twenty years, "a marriage of imagery and the written word that had not been seen before, or, perhaps, since." Kuhlman was one of the first book designers to incorporate abstract expressionism into cover art, and his signature style, making ample use of "negative space," provided a distinct look for Grove throughout the fifties and sixties.

At one point in our second interview, Rosset made a sweeping gesture with his hand and said, "All of Grove Press's life was within about four blocks of here." At first, he ran the company out of his apartment at 59 West 9th street. In 1953, he moved to a small suite of offices above an underwear store at 795 Broadway, across the street from Grace Church. By that time, the Abstract Expressionists had made the Museum of Modern Art into a major player in the international art scene, the Living Theater was radicalizing American drama, and the Beats were developing their "new vision" for an indigenous avant-garde. The American Century had arrived, and New York City was its capital. If Rosset himself is a product of pre-war Chicago, Grove Press could only have happened in post-war New York.

It could also only have happened in the fifties. Rosset purchased Grove at a transitional moment in the paperback revolution that was democratizing reading in the United States. Piggybacking on the distribution networks of mass-market magazines, most paperback books in the forties were reprints either of bestselling hardcovers or of out-of-copyright classics. Initially, Rosset pursued this route, developing his title list by reprinting classic texts such as Matthew Lewis's The Monk and Henry James's The Golden Bowl. But soon, inspired by vanguard presses like James Laughlin's New Directions and Jason Epstein's groundbreaking Doubleday imprint Anchor Books, Grove began publishing original avant-garde texts as inexpensive "quality" paperbacks. Following the example of Epstein, who promoted his imprint with the Anchor Review, Rosset launched the Evergreen Review in 1957, and in 1958 the "Evergreen Originals" imprint. Grove operated on a shoestring, paid small advances, and was almost always on the verge of going under.
Glass also discusses the early days of the major Paris publishing houses ("from whom Grove would acquire the work of many of the authors—Antonin Artaud, Regis Debray, Frantz Fanon, Eugene Ionesco, Alain Robbe-Grillet, Henry Miller, William Burroughs, Jean Genet, the Marquis de Sade, J.P. Donleavy, and Samuel Beckett—with whom it would become closely identified"); and the instrumental partnership of Donald Allen, who became the press's San Francisco representative, bringing to the fore Allen Ginsberg, Jack Kerouac, William Burroughs and company. More more more of this amazing read here. Part II, Grove Press in the 1960s, can be read here.
A direct interview with Rosset from 1997 is over at the Paris Review. Ken Jordan asked Rosset about Lady Chatterly's Lover, the trial over The Tropic of Cancer, talking with Sylvia Beach about publishing Waiting for Godot and Ionesco's The Bald Soprano, the energy of the Beats, and the more political works that came out of Grove--Rosset of course was most known for acquiring The Autobiography of Malcolm X (the LARB piece notes that "by 1970, Grove had sold over a million copies"). From the PR interview:
INTERVIEWER

Though Grove started out primarily as a literary publisher, over time the company did more books of an overtly political nature, like Frantz Fanon's The Wretched of the Earth and The Autobiography of Malcolm X.

ROSSET

Fanon was published by a very left-wing, radical French publisher, who we bought it from. It was a more important book for Africa, Algeria in particular, more than here. I mean, people here had a lot of terrible problems and poverty, but nothing like in Africa.

INTERVIEWER

The black nationalists sure took it up.

ROSSET

Far more than Martin Luther King. The Black Panthers, definitely. It was a revolutionary book. Malcolm X, though, I don't know. He wasn't political in that socialist way. Malcolm X was very revolutionary when it came to the treatment of black people in this country, and so on, but I don't think he had Fanon's kind of insight about political organizing and economic analysis. I wonder if Malcolm X ever heard of Fanon. I doubt it. No, his movement got translated into Muslim practice. That never impressed me as being brilliant politically. It still doesn't.

INTERVIEWER

Didn't Grove acquire The Autobiography of Malcolm X after he had been assassinated?

ROSSET

The book was already in galleys when we got it. Doubleday was the original publisher, but they gave it up. In the paper, Nelson Doubleday said, I don't want my secretaries to be killed because of this book. We paid twenty thousand dollars, not to Doubleday, but to Alex Haley. I don't think Haley would have let any money slip away from him.

INTERVIEWER

What was it about Malcolm X's book that attracted you to it?

ROSSET

Malcolm X got assassinated, that's number one. He was a renegade who had something very interesting to say—powerful social comments to make about poverty and our government. The book is brilliant. Of course, he was much less of an establishment figure than he is now. In those days he was really a fringe person. Now he is a saint. He was a very exciting figure, very articulate. At the time he made that one terrible statement, though now in retrospect it doesn't seem so off base. When Kennedy was assassinated he said, "The chickens have come home to roost." Then it sounded awful—nasty and violent. But it was true. All the enemies that Kennedy created came back to haunt him. And it happened to Malcolm X too. He was almost assassinated at least once before. His house was burned down. He was living in constant danger.

INTERVIEWER

Aside from publishing black nationalists like Fanon and Malcolm X, Grove was also doing books by Che Guevara and Fidel Castro.

ROSSET

Fanon didn't write anything for us. He'd written a little masterpiece, but we got a book that was already done. With Che and Castro it wasn't so easy. I mean, there you had to be inventive.

INTERVIEWER

Inventive in what way?

ROSSET

Well, Fred Jordan and I flew to the mountains of Bolivia in search of Che's diaries after he was assassinated. Everyone was trying to get that diary, including the CIA. We got a tip from the Cuban delegate to the UN. Eventually we found some pages in Cochabamba and published them in Evergreen in a whole issue dedicated to the spirit of Che. Paul Davis did a painting of Che for the cover; we made a poster of it and put it all over New York, in the subway and at bus stops. It was everywhere. That aggravated the anti-Castro Cubans and, I think, led directly to the bombing of Grove.

INTERVIEWER

The bombing of Grove?
Sorry for the cliffhanger, but do read more here. Image at top: Joan Mitchell and Barney Rosset in the 1952 documentary Obscene, from the NY Times.