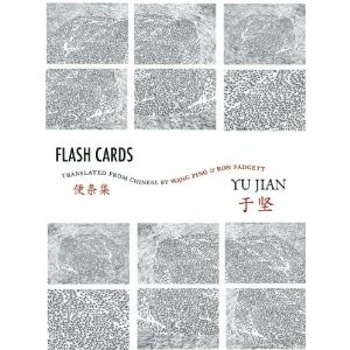 We hear a bit (relatively speaking) about Chinese artists (more on this below) and writers these days, as we should when it comes to dissidence—but not as much about poets who, for instance, had their first book translated into English and were subsequently nominated for a 2011 Best Translated Book Award. Ron Padgett and Wang Ping translated Flash Cards (Zephyr Press & Chinese University Press) by Yu Jian and, according to this just-posted great review at this strangely named blog, "It's a brilliant, beautiful collection of poems." More:
Yu Jian is a Chinese poet. "The second bestselling contemporary Chinese poet, behind Bei Dao" we learn in his translator's, Ron Padgett's, thoughtful note (really more of an introduction) at the beginning of Flash Cards. The three pages of Padgett's A Note on Translating Yu Jian provide a unique portrait of a poet living in today's China. It's followed by an equally interesting analysis of the poetry by Simon Patton, who discusses T.S. Eliot's influence. And then we get to the meat of it: the seventy-five poems that make up this collection.

Throughout the book Yu Jian grapples with China's vast cultural history in an attempt to contextualize its present. He repeatedly uses the traditional symbols and motifs – Autumn, leopards, flowering fruit trees, a porcelain bowl – and then contrasts them to a much less elegant modern world. And so peach blossoms become pink cosmetic boxes glimpsed from an escalator and a presumably priceless Shang Dynasty antique reveals itself to be a mass-produced bowl used to hold chicken soup. He shows us a China disconnected from its past. The poems are short and yet, in just a few lines, Yu Jian tells surprisingly complex stories.

Someone discovered Xi Shuang Ban Na
"Beautiful Place"
The locals don't know what that means
They've never discovered beauty in their native land
The world has always been like this
The place has always been called Xi Shuang Ban Na

This collection is not political. But I still couldn't help thinking of the Chinese artist Ai WeiWei and his 1995 piece: Dropping a Han dynasty urn. Both artists are smashing tradition – though, perhaps not so dramatically in Yu Jian's case. Both challenge the public's attachment to a China that no longer exists by co-opting its icons and placing them within what has become an almost alien environment. In Yu Jian's case this includes the art of poetry. Nothing, it seems, is sacred.
Find the full review here; and read some poems of Yu Jian translated by Padgett for Jacket 29.