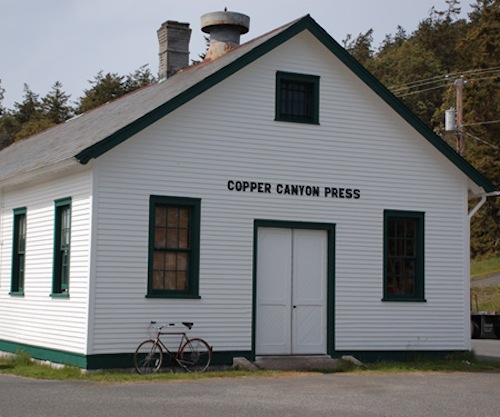 Poetry, as opposed to other genres of writing, presents quite the challenge when it comes to e-book formatting, what with all the ways poets use the space and dimensions of a page to arrange their lines. Still, it is possible and, according to this article from Publisher's Weekly, Copper Canyon Press is leading the charge.
As for their plan:
Last year we told you about one possible solution: Bookmobile's Ampersand poetry app and store front, a project that seems, sadly, to have been shelved in the wake of Apple's changing in-app purchase rules (though we were unable to reach Bookmobile for confirmation). This year, Copper Canyon Press, one of the biggest exclusive poetry publishers, received a $100,000 grant from the Paul G. Allen Family Foundation specifically for the purpose of launching an e-book line and working on some of the difficulties of getting poetry on screen. Copper Canyon has been working with its distributor, Consortium (as well as the rest of Perseus), to create a better poetry e-book.

Copper Canyon's executive editor, Michael Wiegers, says getting poetry e-books right "becomes a philosophical issue. I would say the best design is hidden. Reflowable text is stripping out the idea of design and the graphic designer's attention to the page, and in many ways [a poet is] something of a graphic designer, looking to fill the space of the page with words in different forms."

To realize this vision, Copper Canyon must go beyond mass text conversion programs. The press is bringing a new level of attention to the process, working on poetry e-book templates, helping Consortium's techs to use them, and doing quality control and proofreading on the converted e-books before releasing them. To oversee all of this, Copper Canyon has hired Amelia Robertson, who had previously worked as the press's editorial assistant and development assistant, to work as half-time e-book coordinator.
And, on overcoming the challenges inherent to this formatting:
Copper Canyon started with its backlist, 40 years of classic poetry books. Wiegers says, "Through those conversions we're establishing style sheets and templates and asking, what are the things that we want in a Copper Canyon book that are going to suggest intentionality on the part of book design, e-book design, and on the part of the poets. We're starting off with the flush left books. Those have been the easiest templates to create. Then we'll do the moderate difficulty, then on to C.D. Wright," a poet known to be more adventurous with how she arranges her poems on the page.

The first batch of Copper Canyon e-books is set to launch in early spring, and all the work is paying off: so far, says Robertson, books with "lines that are flush left will reflow with a soft indent." But, Robertson continued, "the barrier we're up against is that the lines that are already indented, when they reflow, the devices prevent us from creating an additional soft indent. That's our hurdle right now."
Make the jump to read more, including input from Editors at Graywolf and Sarabande.