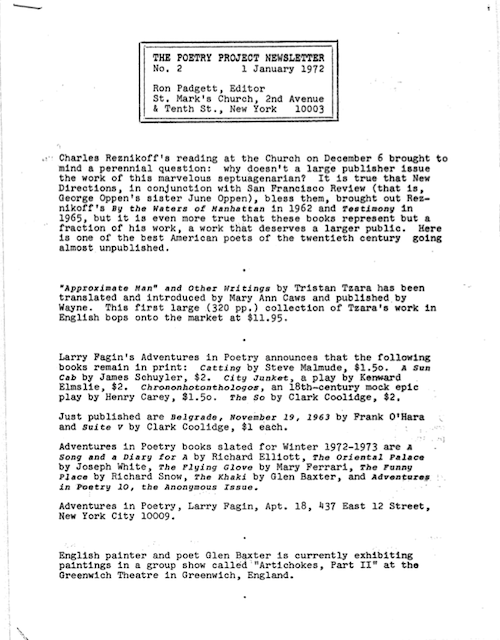 Holy cattle. New at the Poetry Project blog, and thanks to Project Archivist Will Edmiston, are the first five issues of The Poetry Project Newsletter, edited by Ron Padgett from 1972 to 1973. Edmiston has digitized the issues and made them available for PDF download.
Amazing to note is that the Newsletter—which now publishes interviews, poetry, book reviews, essays, reading reports, and so on; and is funded by both advertisers and subscribers—was initially meant to present in simple format what we now call "poetry news," with gems like "Horizon Press will soon publish Edwin Denby's novel Mrs. W's Last Sandwich" and "Johnny Stanton's Siamese Banana Press, after a brilliant underground publishing history, has apparently bit the dust, or, as Stanton puts it, 'It got bruised and deep rot set in.' The bruise was financial." (Both from issue 1.) Also included therein was information on the Project's programming.
By issue 5, the items were not limited to what was being published, but included books received; art show notices and brief reviews (e.g., "Jim Dine's recent show at the Sonnabend Gallery (downtown) was as big, lyrical, beautiful, tender and accomplished as admirers of his work had expected it would be"); responses to correspondence; and random commentary (Gillian McCain, who edited from 1994 to 1995, would include an actual gossip column). LOVE this one, for instance:
What's with this James Atlas? Every time he reviews a "New York School" poet, he repeats the same snotty remark: "...New York School of poets...whose guiding concern is to call attention to themselves" (POETRY, Oct. 1971), and, "...New York School of Poets, better known as indulgent self-promoters than as writers" (POETRY, Jan. 1973). Please don't say that anymore.
More recent issues of The Poetry Project Newsletter can be downloaded here. Or you might "like" em on ye olde Facebook.