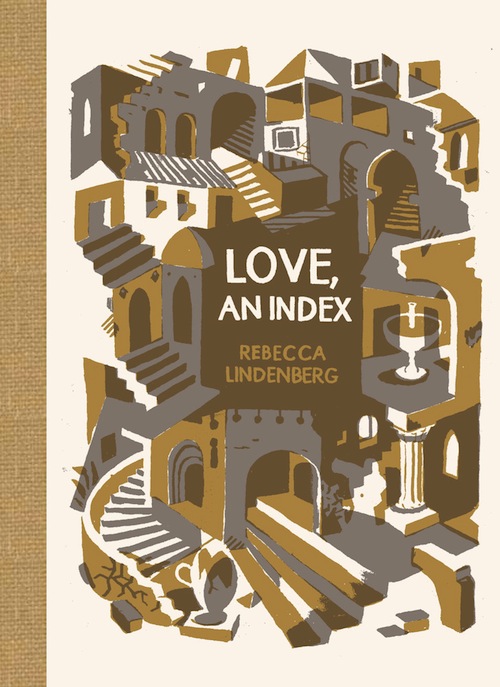 Just last week Rebecca Lindenberg's debut book from McSweeney's got a brief review in Vanity Fair. This week, she takes part in an interview with McSweeney's Poetry Series editors Dominic Luxford and Jesse Nathan.
We begin with the genesis of Love, an Index, which began before the tragic loss of Craig Arnold.
McSWEENEY'S: Can you give us an overview of the creation of Love, an Index? Did you write these poems over one super-intense summer? Over ten years?

LINDENBERG: I started the book in 2006, when Craig Arnold and his son Robin and I were living together in Rome. It was a book about our unconventional little family, about love and its many complications. I always intended it to converse as well with a long tradition of poems about love, from Sappho to Frank Stanford. I worked on it slowly alongside other projects for a few years, and it was well underway, about half written, when Craig vanished in April 2009.

At that stage, as you can imagine, the direction of the book changed dramatically, as did my feeling of urgency about it. Thanks to an unbelievably merciful twist of fate, I was awarded a seven-month residential fellowship at the Provincetown Fine Arts Work Center in Cape Cod, Massachusetts, beginning the fall of 2009—only a few months after losing Craig. The fellowship afforded me a place to hide out for a while. It was at the Work Center that I completed most of the book.
Here Lindenberg answers the ever-hard to answer:
McSWEENEY'S: Why write poetry?

LINDENBERG: I think there is a general misconception that you write poems because you "have something to say." I think, actually, that you write poems because you have something echoing around in the bone-dome of your skull that you cannot say. Poetry allows us to hold many related tangential notions in very close orbit around each other at the same time. The "unsayable" thing at the center of the poem becomes visible to the poet and reader in the same way that dark matter becomes visible to the astrophysicist. You can't see it, but by measure of its effect on the visible, it can become so precise a silhouette you can almost know it.
Read the rest after the jump.