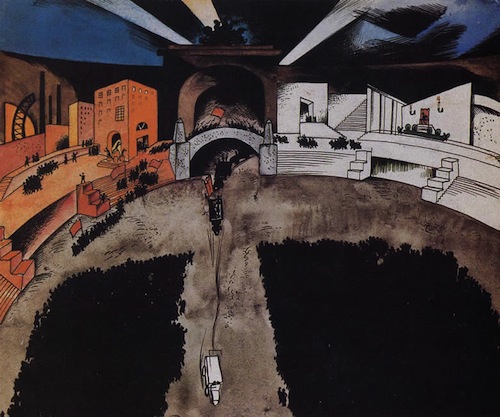 EVENT HORIZON, folks. A couple of must-sees for you New Yorkers (or visitors!):
1. TARGET MARGIN'S 0,2012: The Last Futurist Lab. "Explores the Russian avant-garde, aiming to find the literary hooligan in us all." Quite noteworthy here is the Karma Kharms (or yarns by Kharms)* -- actor/director Eliza Bent puts poet/translator Matvei Yankelevich's translations of poet Daniil Kharms onstage. The details:
A bizarre physical score is set to the equally strange micro-fictions of Russian avant-gardist Daniil Kharms. This movement heavy adaptation creates a Russian village while investigating the absurdities of life in Stalinist Russia (and other totalitarian states) with deadpan cheek and aplomb.
(Part of PROGRAM A: March 16 at 7:30 p.m., March 17 at 9:30 p.m., March 22 at 7:30 p.m., and March 24 at 7:30 p.m.)
Also neat: the staging of The Gray Notebook, by Alexander Vvedensky; The 2012 puppet re-enactment of the 1920 Bolshevik re-enactment of the STORMING OF THE WINTER PALACE, October 1917; The Bedbug, by Vladimir Mayakovsky (but of course); and much more.
And check their free events:

The Last Futurist Panel
March 19 at 7:30 p.m.
A conversation with Nikolai Firtich (Associate Professor of Russian Studies, Vassar), Matvei Yankelevich (Ugly Duckling Presse/Translator, Today I Wrote Nothing: The Selected Writings of Daniil Kharms) and Regina Khidekel (Executive Director, The Russian American Cultural Center), moderated by Christopher Silsby (PhD Candidate, Theater Studies, CUNY).

Petersburg (B.Y.O.B.) "Bring Your Own Bely"
April 2 at 7:30 p.m.
with Mary Neufeld & surprise guests (it may be you!)
An evening designed to inspire you to read (or reread) Andrei Bely's masterpiece.

Biomechanics Demo
April 7 at 4 p.m.
with Jenny Tibbels-Jordan, Jon Froehlich & Casey Robinson
All events take place at The Bushwick Starr. For more from Program A, and into the future until Program F, go here. If you haven't seen a Target Margin production yet, we'd highly highly recommend it.
2. And speaking of Yankelevich! The poet is also the co-editor, with Yelena Gluzman, of UDP's forthcoming Emergency INDEX, the launch of which is at The Kitchen next Tuesday, March 20, at 7:00 PM (FREE). More:
Emergency INDEX is a new yearly edition documenting performance in the words of its creators. This first volume contains nearly 250 descriptions of performances of dance, poetry, protest, theater, music, therapy, scientific research, advertising, terrorism, and more.

The edition's publisher, Ugly Duckling Presse, celebrate the launch of the publication and its contributors, hosted by editors Matvei Yankelevich and Yelena Gluzman. The evening features performances by Marilyn Arsem, Joyce Cho & Machiqq, Lindsey Drury, Allie Avital Tsypin and Gabrielle Herbst, and Ariel Goldberg, as well as video screenings, the Homeless Museum of Art, Rebecca Cunningham's One, and Camila Caneque and her Dress.

More about Emergency INDEX:

Every year, Emergency INDEX invites authors to document performances they made in the previous year. By including performances regardless of their country of origin, their genre, aims, or popularity, INDEX reveals a breathtaking variety of practices used in performance work as it actually exists today. For readers, INDEX offers a cutting edge view of performance as it is used in dance, theater, music, visual art, political activism, scientific research, poetry, advertising, terrorism, and other disciplines. For artists, INDEX provides an opportunity to document the most important aspects of new work, without the need for spin or salesmanship. For anyone interested in contemporary performance, INDEX is required reading.

The fine print: pre-launch discount: codeword "beeftongue"
Have fun, ducks. Image above: Design for "The Storming of the Winter Palace." In 1920, Iuri Annenkov (1889-1974) designed a massive production to commemorate the third anniversary of the Bolshevik coup of 1917. More on that spectacle here.