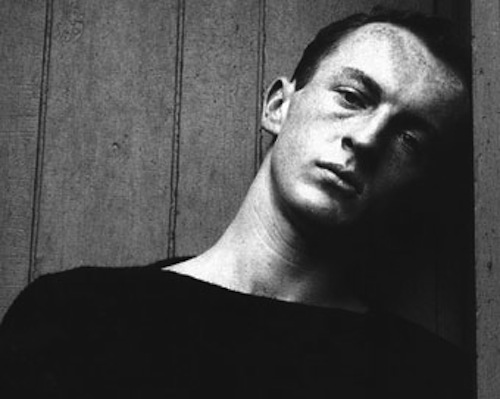 The Guardian reviews Frank O'Hara's Selected Poems upon its recent reprinting (Carcanet), noting that it's been almost 40 years since the original publication edited by Donald Allen (1974). Note that there's also Mark Ford's Selected from 2008 (addressed later in the review). First, writer Charles Bainbridge reminds us of O'Hara's early penchant for survival, looking at "Adieu to Norman, Bon Jour to Joan and Jean Paul":
It moves away from close, quick-fire details and builds to an impassioned, playful hymn to survival, to keeping going: "the only thing to do is simply continue / is that simple / yes, it is simple because it is the only thing to do / can you do it / yes, you can because it is the only thing to do / blue light over the Bois de Boulogne it continues / the Seine continues / the Louvre stays open it hardly closes at all". The idea of survival is crucial to O'Hara's poetry; it's what drives his work and, even though he's best known for this kind of "I do this I do that" writing, his style had been continually shifting and adapting since the late 40s.
Bainbridge goes on to discuss the complications that arise in selecting from O'Hara's output:
There's always been some controversy about how O'Hara's work should be presented in book form. The poems published in his own lifetime weren't always reflections of his best writing and when his Collected Poems was produced in 1971 (five years after his early death), its sheer scale and length surprised even his closest friends. In making any selection, which side of O'Hara's writing do you emphasise?

The 1974 Selected Poems edited by Donald Allen (which Carcanet are here reprinting) contains 140 poems touching on a broad range of O'Hara's output. But, inevitably, it's not without problems; there are several works missing that, over the years, have been recognised as central – "A Party Full of Friends", "At the Old Place", "Poem/The fluorescent tubing burns like a bobby-soxer's ankles", "Poem/Lana Turner has collapsed!" (a piece written 50 years ago this February that brilliantly embodies O'Hara's gift for "photographing the instant"). What the book does deliver, however, is the brasher, messier, more avant-garde side of O'Hara, typified by the rich and challenging textures of "Easter" and "Second Avenue". An alternative approach can be found in the 2008 Selected Poems edited by Mark Ford that, gathering together his lighter, frequently more accessible works (including the final version of the excellent one act play "Try, Try!"), stresses the camp O'Hara, O'Hara as the groundbreaking gay writer. Both books, however, agree on the central importance of the "I do this, I do that" pieces he was producing throughout 1959.

For O'Hara a poem was most of all a performance, the declaration of a moment, rather than a display of craft or control. Looking to Whitman, Mayakovsky and Benjamin Péret he expressed a flamboyant disregard for the built resonances of le mot juste, the traditional sanctities of versification. . . .
Read the full review here.