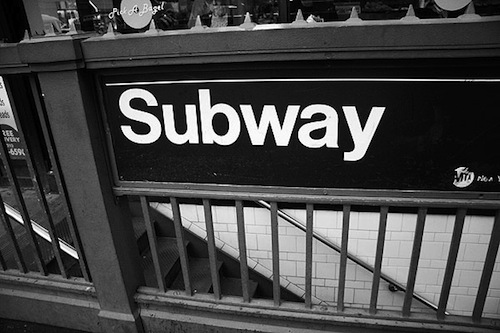 It's been almost a year to the date since this post, and now we can follow up with this one. The New York Times' City Room reports that:
Poetry in Motion, the underground dabble in verse that made a subway ride to work more bearable, is getting a second act. The return of the program, discarded in 2008 and sorely missed by many, is being announced on Tuesday by the Metropolitan Transportation Authority.

In this incarnation, the selected poem will be accompanied by a work of art — the two parts "meant to be in dialogue," as Sandra Bloodworth, a transportation authority official, put it.

Begun in the early 1990s, Poetry in Motion had a 15-year run before it yielded in 2008 to Train of Thought, a series that favored prose, with quotations from assorted writers. In short order, though, Train of Thought was also derailed, giving way to less-than-soulful placards announcing subway improvements.

"We heard loud and clear that Poetry in Motion was missed, and it would be great to have it back," said Ms. Bloodworth, who is director of the authority's Arts for Transit and Urban Design program.
Good news. Read more after the jump.