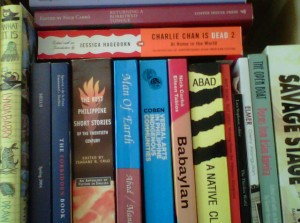 So, it's the end of week 13 of spring semester. At this point, all of the heavy lifting has been done, the hard discussions where history, historiography, culture, politics, social issues, questions of race and ethnic identity formation, intersect with the literary, the aesthetic, formalist concerns. Now for the fun part. I always give my students a creative final project option, not only because they are more enjoyable for me to read, but more importantly, though none of my students are creative writing majors, in their creative works, I get valuable insight into what the students really learned, which works and discussions resonated with them the strongest. That said, I offer you a plethora of writing prompts from my Filipino American Literature class:
After Nice Rodriguez's "GI Jane," write a "Dear Puti" ["puti" means "white," in Tagalog, so "Dear Puti," would mean "Dear White Man," or "Dear White Woman," depending upon your inclination] letter.
After Regie Cabico's "What kind of guys are attracted to me," what kind of guys/gals are attracted to you? What do you think are their expectations, based upon who they "see" when they see you? How do those interactions go down?
After Virginia Cerenio's "Hail Mary," and Barbara Jane Reyes's Poeta en San Francisco, write your own prayer poems. What are you praying for, who are you praying for, who/what are you praying to?
After Barbara Jane Reyes's Poeta en San Francisco, write a series of encounters between the tourist and the native/local, the voyeur and the spectacle.
After our readings/discussions on war (Wilfrido D. Nolledo's But for the Lovers, John Sayles's Amigo, Gilda Cordero-Fernando's "The People in the War"): Where/how does your own family history intersect with war (Philippine American War, WWII, Vietnam, Iraq, Afghanistan, et al)? How did war bring you to where you are now? What has changed, how have things changed - in your family dynamics, the way you view/walk in the world, your social interactions, your political convictions or activisms?
After Evangeline Buell's "Grandma as Rosie the Riveter," what are your ancestors' histories of work? What are your memories of them/their work?
After M. Evelina Galang, One Tribe, who is/are your tribe(s)? Who comprises each of these tribes, how are they structured and maintained?
After Lynda Barry, One Hundred Demons, write autobifictionalographic narrative(s).
After Lynda Barry, One Hundred Demons, write a series of vignettes about social, political, individual "demons." Were they "exorcised"? How? Was anything learned?
After Lynda Barry, One Hundred Demons, and Melinda de Jesus's "Liminality and Mestiza Consciousness in Lynda Barry's One Hundred Demons," write a narrative which teases out some of the ambivalence and contradictions about the light skinned and/or mixed race members of your communities.
After Melinda de Jesus's "Liminality and Mestiza Consciousness in Lynda Barry's One Hundred Demons," what is decolonization? Can we decolonize ourselves? How do we decolonize ourselves? What practical things can we do -- or: How can we intergrate these practices into our daily lives?
After R. Zamora Linmark, Leche, for any of you who have ever gone back to the place you or your ancestors were originally from, write your "balikbayan" narrative. Use some of Linmark's various narrative strategies (tourist tips, dictionary/glossary entries, "Decolonization for Beginners," postcards).
After Gina Apostol's "Wake," write a tribute to Andrew Cunanan, or other famous/infamous Filipinos/Filipino Americans we love/hate to "claim."
After your classmates' presentation on Eric Gamalinda: Create a video poem.
After Fatima Lim-Wilson's "Alphabet Soup," write your own abecedarian poem, about foreignness, assimilation, acculturation, etc.
After Tony Robles's "Son of a Janitor," write your own version, "Son of a ___," "Daughter of a ___."
After Leslieann Hobayan's "Double Dutch," write a narrative about a time when ideas of racial prejudice/bias entered your life. Was it a specific incident? Who was the enforcer? Were you able to resist? What was the outcome?
After Amalia Bueno's "Perla and Her Lovely Barbie," write your own Barbie narrative. Or in place of Barbie, what artifacts or icons do you remember from your childhood that played a major role in your socialization (ideas of beauty, social norms, gendered norms). Were you able to subvert them? How so?
After Sasha Pimentel Chacón's "Blood, Sister," write a poem/narrative with yourself in the speaker's position. What would you say to that "blood sister," or "blood brother"? How do you make sense of your relationship/kinship with her/him?
After Carlos Bulosan's "If you want to know what we are," Bino Realuyo's "From a Death March Survivor..." and Proletariat Bronze's "The Anthem," write your own "if you want to know..."
OK, Fil Ams and friends. Now go write.
Barbara Jane Reyes was born in Manila, the Philippines, and grew up in the San Francisco Bay area. She earned a BA in ethnic studies from the University of California at Berkeley and an MFA from San Francisco State University. She is the author of the poetry collections Gravities of...