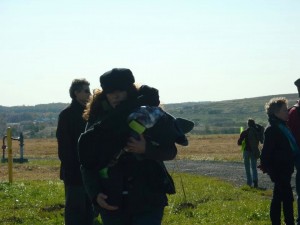 Jennifer Scappettone is next up in a series of posts for National Poetry Month regarding how writing and art practices have changed in response to the occupations. Previous respondents include Stephen Collis and Steve Benson; Richard Owens and Brian Whitener; Brian Ang and Ana Božičević; David Buuck; Suzanne Stein and Anna Vitale; Dan Thomas Glass and Lauren Levin; Anelise Chen; Lara Durback; and Jeanine Webb. The following two paragraphs contain part of the prompt that I provided to participants:
Something I am wondering about kind of broadly is how your practices might have changed since the beginning of the occupations, if we can mark this beginning in the fall of 2011 (the occupations obviously having their immediate precedent in the Middle East and Europe).
Do you think it may be possible to speak to this a bit? […] Succinctly, in a paragraph or two? Maybe it has had no perceivable effect, which is fine of course, and in which case you might talk about why it is important to maintain what you are doing parallel to (or beyond?) current social movements and political events.
JENNIFER SCAPPETTONE
The Trash-Mount and the Vault: Two Underbellies
"You know why this is filthy and not clean is there isn't leadership," he said. —"Occupy L.A.: 30 tons of debris left behind at City Hall tent city," Los Angeles Times, November 11, 2011
I've been interested in garbage for as long as I can remember. My parents supplemented my father's endangered underling-on-Wall-Street salary by setting up at flea markets on Sundays to sell antiques and other seemingly random "collectibles," and consequently many of our weekends were punctuated by stopovers at "sales," where my father would expertly scan peoples' open driveways and garages for identifiable cast-off toys and figurines, wound and ticking things and tschotskes of value, while my mother dug more deeply for anything he'd missed, plus costume jewelry and other rhinestones-in-the-rough. This practice was rooted further back in the family history; my great-grandfather moved to Lower Manhattan from Southern Italy following the devastation of his crops at the turn of the twentieth century and acquired a pushcart for the sale of used items, which eventually turned into a salvage shop downtown co-run by my grandfather, who could, unlike his father, read and speak English—slow progressive steps up from the traditional work of the ragpicker carried out by those humbled on the social scale. By some strike of fortune I grew up next to two sites I always associated with garbage, though their waste was never forthcoming to the naked eye, but instead inhaled and imbibed by those on our cheap edge of an otherwise affluent Long Island suburb: a nameless postindustrial complex overseen by a monumental black water tower branded CERRO WIRE in view across the street, and the fenced "sump" (a landfill that accepted the Cerro complex's industrial waste, I learned decades later) next to my elementary school just down the hill.
"After being referred to as 'garbage' by city director Erma Hendrix, Occupy Little Rock took their protest to City Hall Tuesday night, hoping to clarify their message of 'We are the 99%.'" —"Occupy Little Rock: We are not garbage," Fox News, February 28, 2012
In the Fall of 2011 choreographer Kathy Westwater, architect Seung Jae Lee, trailbuilder Leigh Draper, and I were conducting field work for a residency sponsored by iLAND (the interdisciplinary Laboratory for Art, Nature, and Dance) to continue the development of PARK, a series of performative and research-based acts that, as I put it in introducing our November presentation on the North Mound of Fresh Kills Landfill, sought to etch into the landscape through our respective languages—dance, poetry, pathmaking, architecture—the conditions that characterize the distressed landscape's translation from a site of trauma to a commons.
"Mayor Ed Lee's administration declared OccupySF a 'public health nuisance….' But as noted by public health nurse Martha Hawthorne, 'When is the last time city department heads have left their offices and taken a walk through the Tenderloin, just minutes away from the San Francisco Occupy site?.... Garbage on the street? It's there and has been for years, the inevitable consequence of the lack of affordable housing and years of cutbacks to mental health and substance abuse funding in San Francisco." —"Public health and Occupy," San Francisco Bay Guardian, November 29, 2011
In strategizing about the poetic content of this work, I hoped to continue formulation of a verbal and material archive of the invisible and unspeakable contents of Fresh Kills—that monument to consumption at the western edge of Staten Island, "visible from space" and yet invisible to most New Yorkers, which in its brief lifespan through the postwar booms and busts of 1948-2001 served as the repository for 150 million tons of solid waste, accreting four massive hills or mounds over time amid the tidal creeks and coastal marshes once inhabited by Lenape fishermen. It seemed an inherently political act to conduct an imaginative "archaeology" of this site in particular, of its buried knowledges—to transmit to language and the senses the afterlife of rabid consumption habits being broken down under our feet. It also seemed crucial to articulate the fact that Fresh Kills is the no-longer-stinking underbelly of Manhattan, just as Coney Island (also visible from Fresh Kills), is its fantasy-double. That Fresh Kills faces the absent Twin Towers, monuments to global finance capitalism and scars of its attack, and that the site of disquieting name received the sifted aftermath of 9/11 for apparent lack of any other place, swarmed in consciousness as Zuccotti Park was occupied as Liberty Square across the waters. Could language, dance, and design reanimate the abjected underbelly of global capitalism, restoring social substance to an apparently faceless, reticent, alienated landscape?
"Five other women aged 55 to 80 from the Action Now group were also arrested Tuesday, after they took garbage from a foreclosed home owned by Bank of America and dumped it in one of the bank's branches." —"Occupy Chicago Protestors Dumped Garbage From A Foreclosed House In Front Of A Bank Of America," Business Insider, October 13, 2011
Following on Seung Jae Lee's cup "telephones" of our June 2010 presentation at Fresh Kills, which vibrated kite strings the length of a playing field to articulate the words of visitors back to themselves as though they were issuing from the ground, I determined that perhaps words could be threaded onto such strings to make Hansel and Gretel trails, dysfunctional kites. I began collecting language—the language of my garbage: cutting away and stashing all threadable words. This sporadically revolting process made me aware over the course of months of the many kinds of waste incorporated into recycling facilities and landfill: not only the waste of raw material, of labor, of the energy toward transportation of commodities across great scales, but the waste of intellectual labor and aesthetic skill spent packaging them as spectacle, designing fonts, devising product jingles or names. Out of language framed entirely by capitalism and the culture of conspicuous consumption, how was transformative text to emerge? It had to be irrupted by a language other to it—of choral observation, nursery rhymes and lullabies, Bartleby's dead-wall reveries, the rising echoes and chants filling rerouted streets and newly public squares.
"Schlosser said officials are continuing to clear the park of unsanitary conditions…." —"11 arrested at D.C. Occupy site," USA Today, February 5, 2012
April 6, 2012. I need to arrive at exactly 1:55, or the lack of cell reception and disorienting quarters will make it impossible for us to convene. The rehearsal site stands at the corner of Wall and Broad, the entry occupied on the one side by an equinox gym where elliptical trainers line the platform of a lobby incongruously, and by a well-secured series of equities and esquires offices on the other, the whole facing the fenced-off void in front of the New York Stock Exchange, swarming with camera-armed tourists present in every language to photograph…what?
Below, beyond a maze of halls bordering a T.J. Maxx basement, the safe, massive and electrically elaborated vault doors splayed, power strips abandoned, wires loosed from the ceiling, dangling plastic telephones, custodian account indices, disinhabited rows of futures marked by electrical tape on the floor, empty dumbwaiters, heaps of missing papers, "SLOP SINK FOR BUILDING PERSONNEL ONLY," boxes labeled "recharged batteries" in ballpoint dates, the last reading 1999 as if the Y2K calamity really took place—construction dust lining the surfaces that "help our automemory," as one of the dancers puts it: we have graciously been granted this basement by the Lower Manhattan Cultural Council—a colossal safe in the bowels of Wall Street fallen into desuetude by the advancing virtualization of value. Are the security cameras on or not, and would the watchers be entertained or disturbed? A new alarm in the panopticon: the sneaking suspicion not that the guard is present but that he is there no longer.
Limbs remembering the score of a choral line, provoked vestiges of Sister Carrie, Chaplin, and Busby Berkeley given permission to kick and convulse inside the useless hollowed vault, measuring the city tearing itself inside out, on one's hands and knees.
"Tragedy…forces the mystery upon us, and it makes us realize so vividly the worth of that which is wasted that we cannot possibly seek comfort in the reflection that all is vanity." —A.C. Bradley, Shakespearean Tragedy (1904), qtd. in T.J. Clark, "For a Left with No Future," New Left Review, March-April 2012
Emerging into the late afternoon rush hour, I learn from placards that the 539-foot-high skyscraper, formed of "The Mausoleum of Halicarnassus piled on top of the bell-tower of St. Mark's in Venice," temple to capital-in-the-sky, once housed the headquarters of Bankers Trust, which took the pyramid as its trademark, and as its slogan "A Tower of Strength."
When finance has moved out, I wrote, and the entrails of its devouring vanish from perceptible space, the artists are invited to clear the dust with their bodies.
Thom Donovan lives in New York City where he edits Wild Horses of Fire weblog (whof.blogspot.com) and coedits ON Contemporary Practice with Michael Cross and Kyle Schlesinger. He is a participant in the Nonsite Collective and a curator for the SEGUE reading series (NYC). He holds a Ph.D. in English...