Another class I am currently teaching this semester is Filipino American Literature in the Asian American Studies Department at San Francisco State University. Now, I always swore that if I were ever presented with the opportunity to teach Fil Am Lit courses, I would do my best to move beyond, excavate deeper than what is considered the "usual suspects," of Filipino American Literature. Of course, for example, teaching Carlos Bulosan is important and necessary (last year, I blogged about him, his 1936 correspondence with Harriet Monroe, and his subsequent publication as "Carl" Bulosan in Poetry magazine).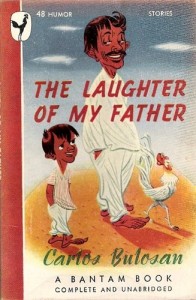 As a teacher, I want to question why is Bulosan's writing important, beyond the wrought sentimentality of America is in the Heart. I've been relishing his collected personal essays and ars poetica in On Becoming Filipino (E. San Juan, Jr., ed.), and in his stories inspired by autobiography in The Laughter of My Father. The former title is an excellent but expensive text, published by Temple University Press in 1995. The latter title is a cutting, ironic, humorous, and obscure piece of literature that most Filipino Americans, even avid readers of our literature, do not know exists. It was originally published by Bantam Press in 1946. Due to copyright expiration and non-renewal, it entered into the public domain, and was reprinted by High Hill Press in 2009, rescued by an editor named David Lee Kirkland (and just now I see there is a 2012 Literary Licensing, LLC edition of this book available). I prefer teaching the stories in The Laughter of My Father (over America is in the Heart) because of their effective social commentary, discussions of poverty, the moral corruption of the wealthy and their oppression of the poor, in stories that maintain their fable-like quality and do not fall into didacticism.
As you know then, I am interested in these ongoing processes of recovery of Filipino American letters. I hate the thought that many in my community are made to feel invisible by our absence in mega-bookstores, not knowing that they must proactively seek out Filipino American titles, and that our community's great literature is being overlooked—yes, even by our educators, who have to make some difficult choices.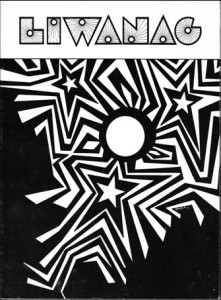 '
Work against forgetting is the rationale behind my decision to feature Serafin Malay Syquia's essay, "Politics and Poetry" at Doveglion.com, our humble website of manifestos, poetics essays, and interviews by writers of color, unafraid of political poetry and literature, interested in expanding/diversifying definitions of the "political."
I first read Syquia's essay many, many years ago (before I was ever ready to) in Liwanag: Literary and Graphic Expressions (San Francisco: Liwanag Publications, 1975), an out of print, grassroots, and legendary publication in West Coast Asian and Filipino American artist communities. Liwanag is one of the first anthologies of Filipino American literature. It is a rough-edged, lovingly compiled collection of works that show the community's resistance against silences, efforts to unearth and recast our buried stories. Syquia, who passed away in 1973, is posthumously included here. His essay is uncompromising and to some, off-putting:
The nature of the times requires, no, demands realism, both in politics and poetry. A people starving cannot be fed on pictures of gourmet dishes. A people with nowhere to live cannot live inside 21 inch television sets. To feed people obscure thoughts perpetuates the obscurity of such thoughts. If poetry is to reflect life as it is, it must concentrate on the symptoms of the sickness that have necessitated the various escapes that artists are forced to take in order to separate themselves from reality. Poetry should not nurture the symptom that created the sickness in the first place. It should help to cure the problems of the world by exposing and offering a sensitive response to the causes of the failures in society.
Syquia's stance is necessary hardline, and I very much admire it. He wrote this essay at the time of the Vietnam War, American anti-war movements, and during the Third World Strike, as young Filipino Americans, college students and community activists, were tapping back into our history of protest poetry and the role of the arts within our political movements. Perhaps they were negotiating their ambivalent relationships to these institutions of power which both marginalized or excluded them, and provided them with access and opportunity.
This actually doesn't sound too different from how things roll today. We continue to ask ourselves what to do with institutional access, with access to education, with access to publication and distribution, with access to a public and visible platform. Hence, I would like to think Syquia's essay is more than relevant today. Posting it on Facebook and in various listservs tells me that while fellow writers think it worthy of clicking "Share" and "Like" (I am shaking my head about this), they are also intimidated by it, if not averse to its demands that poetry do something, that poetry lead to hard self-evaluation. "Poetry should not nurture the symptom that created the sickness in the first place," he wrote, and we are potentially indicted, if not for actively contributing to the sickness, then for our complacency and laziness (which are other ways of contributing to the sickness).
As my own thoughts go, my needs, definitions, and criteria for poetry are in transition; teaching, interfacing with young people, is a big part of this transition. But my gut tells me Syquia's essay is necessary, that more people should read it, think about, respond to it.
Barbara Jane Reyes was born in Manila, the Philippines, and grew up in the San Francisco Bay area. She earned a BA in ethnic studies from the University of California at Berkeley and an MFA from San Francisco State University. She is the author of the poetry collections Gravities of...