One of the themes of my posts here, and in the larger picture of my teaching and writing work, is Pinay Voices, as opposed to that one representative voice. I've been resistant about the idea of "representative work," in the community. I resist the idea that one or two works (or types of work) can fairly represent any one community. The more I read and teach, the stronger my belief that that expectation to "represent," ignores or diminishes all possibilities for aesthetic, linguistic, cultural, political diversity. Likewise, the possibilities for critical discussions are also rather diminished.
As an author, I've been very uncomfortable, being expected to "represent" an entire community. Some years back, as a guest speaker in Willie Perdomo's VONA workshop, Building the Poetry Manuscript, I was asked by one Pinay student what that felt like, being a Pinay expected to "represent." I told her I disliked it; though I think my work can be resonant and  relevant to a Filipina American experience, it's my own take on that wildly divergent thing. Moreover, something I've known since I was young, something to which my parents can attest, is that I am never the Pinay that people expect Pinays to be.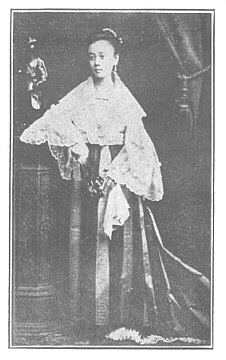 There's Maria Clara. I asked my Pinay Lit students recently who Maria Clara was. Apart from thinking of her as the "traditional" Filipina, what we have been forever told is the "ideal" image of the Filipina, they didn't know too much about Maria Clara's origins or identity.
She is the lovely dalaga (señorita) in Jose Rizal's (ubiquitous among Filipinos) novel, Noli Me Tangere. This novel is a dense and wonderful read, in which Rizal pointedly critiques Spanish colonial rule in the Philippines. Maria Clara (de los Santos y Alba. Oh! The significance of naming.) is the love interest of our hero, the Spain-educated, politicized mestizo Crisostomo Ibarra. The love story between the two of them is an unrequited love story, for she is promised in marriage to someone else. Though she has been faithfully raised by Capitán Tiago, a friend of the Spanish colonialists, it becomes known that the actual parentage of Maria Clara de los Santos y Alba is the Spanish friar Padre Damaso and the native woman, Sisa. You guess how this union came about. Sisa has subsequently gone mad (Mad Woman in the Attic Alert!). With her love unrequited, our poor Maria Clara goes a kind of mad herself.
This is an excerpt of Rizal's "Canto de Maria Clara":
Dulce es la muerte por la propia patria,
Donde es amigo cuanto alumbra el sol;
Muerte es la brisa para quien no tiene
Una patria, una madre y un amor!
Alas, with all these Niña Inocente and Mater Dolorosa archetypes populating our Philippine national hero's seminal novel, with Maria Clara as our ideal Filipina, about which many of us have not been questioning enough, then how's a girl like me to "represent"?
This discomfort is what has informed the kind of remythologizing project that was my book Diwata. I wanted to hear more Pinay voices speaking. I wanted to unearth the fiercest of my Pinay ancestors, those who have been, as Marjorie Evasco has written in "The Writer and Her Roots,"  "submerged in the deluge of the new patriarchal order." In Diwata, my project was to write those mythical and historical voices out of submergence, and have them reveal the myriad ways in which they persevered and survived that patriarchal deluge of rapacious Spanish conquistadors, rapacious Spanish clergymen, rapacious American soldiers, rapacious Christian missionaries, rapacious Japanese soldiers, and so on.
Pinay response to Diwata has been distant and distancing.
That distancing, and whatever the causes for it, has led me to proposing and teaching my Pinay Literature course. It has also led me to my current manuscript, in which I decided to let other Pinays speak their piece. Here's my note on the poems in the manuscript which I am sending out any day now:
These words and stories do not belong to me. So much of my poetry to date has been an assumption of a Filipina American or Pinay voice, an academic assumption of Pinay concerns. The demand for me to be some kind of Pinay spokesperson has come to fill me with ambivalence, and so I needed to ask, to pass the mic, to step aside and let other Pinays speak, to listen to what they have to say, how they speak, write, and make art about what is important to them. What stands out in their responses is a struggle against invisibilities and silences, a hunger to be heard, and to be acknowledged, on their own terms. Here are their words and narratives, from which I have built poems. Here, I am only one of a chorus of Pinay voices.
Some (mostly Filipina) informing texts and works of art include Estrella D. Alfon's "Magnificence," Sita Kuratomi Bhaumik's "1492," Marjorie Evasco's "The Writer and Her Roots," M. Evelina Galang's "Deflowering the Sampaguita," Claire Kageyama-Ramakrishnan's "One Question, Several Answers," Bhanu Kapil's The Vertical Interrogation of Strangers, Helen Rillera's "The Filipina in Filipino Society," Ninotchka Rosca's Sugar & Salt, Melissa Roxas's "Poems as Evidence," Leny Mendoza Strobel's "A Personal Story: On Becoming a Split Filipina Subject," and Jenifer K. Wofford's "MacArthur Nurses."
A debt of gratitude to my collaborators: Kimberly Alidio, Olivia Ayes, Terry Bautista, Arlene Biala, Richie Biluan, Caroline Calderon, Rachelle Cruz, Niki Escobar, Bianca Flores, Michele Gutierrez, Diana Q. Halog, Aileen Ibardaloza, Ingrid Liggayu, Rebecca Mabanglo-Mayor, Rashaan Alexis Meneses, Veronica Montes, Camille Ikalina Robles, Melissa Sipin, Leny Mendoza Strobel, Thea Quiray Tagle. For lending me their words and stories, maraming salamat, Diyos ti agngina.
Barbara Jane Reyes was born in Manila, the Philippines, and grew up in the San Francisco Bay area. She earned a BA in ethnic studies from the University of California at Berkeley and an MFA from San Francisco State University. She is the author of the poetry collections Gravities of...