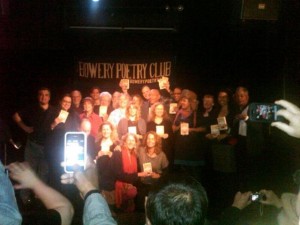 National Poetry Month kicked off for me with the launch of VILLANELLES at Bowery Poetry Club Saturday night.  Much about the event felt surreal.  Intense jammed-up juxtapositions of poetic styles:  language ferment (Charles Bernstein, Antoinette Brim, Lee Ann Brown), formal wit (Kate Bernadette Benedict, Bruce Bennett, Charles Martin), performance chops (Latasha Diggs, Evie Shockley, Taylor Mali).  The dead:  Dylan Thomas, Sylvia Plath, Elizabeth Bishop, the often-evoked Adrienne Rich.  Family: Charles Fort's two daughters, John Edminster with wife and three kids, my son and sister, the power couple of Marie-Elizabeth Mali (coeditor of the book with me, and the evening's kickass emcee) and Taylor.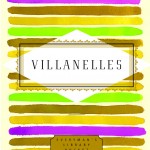 There was the book itself, with its familiar Everyman heft, sweet price, mimetic cover design, and slippery cerise bookmark, all of which Tara Betts called "sexy" and my friend Tom said reminded him of a hymnal, leading the editor from Random House, Diana Secker Tesdell, to say she would refer to the anthology hereafter as "the sexy hymnal."  Of course, for me the most bizarre part was meeting an idea I had nourished in my shadows since about 1992 and tumbling around with it in full flesh and motion and breath, a mere 20 years later.
And all this surreal strangeness just massaged the evening open to make space for the really incredible action which was the way these poets of so many ages, backgrounds, and aesthetic tendencies moved together through the encircling, spiraling door of the villanelle into a shared poetic world, a common ground where all of us could appreciate each others' art and our shared calling.  It felt both peaceful and exciting to be together like this, somehow a deep gesture of peace whether the poet had written one villanelle or dozens—a dream of comity come true after the brutal poetry wars of the last few decades. It was a beautiful way to begin National Poetry Month, and it made me want to  paraphrase Rumi's lines:  "out beyond ideas of wrongdoing and rightdoing, there is a villanelle. I'll meet you there."
Annie Finch is the author or editor of more than twenty books of poetry, plays, translation, literary essays, textbooks, and anthologies, including the poetry collections Eve (1997), Calendars (2003), and Spells: New and Selected Poems (2012), and the long poems The Encyclopedia of Scotland (1982) and Among the Goddesses: An Epic...