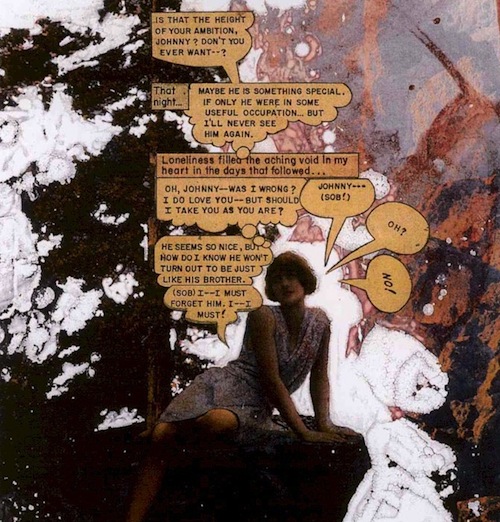 Albert Mobilio reviews The Collected Writings of Joe Brainard for the current issue of Bookforum. "Smartly edited by his lifelong friend Ron Padgett, the collection demonstrates that this unlikely success was no fluke." Of Brainard's I Remember, Mobilio writes: "Drawing on his dadaist and surrealist experiments in art and infusing their juxtapositional impulses with his own calculated offhandedness, Brainard gave birth to a wholly original (and, despite its numerous homages and exemplary employ in a thousand creative-writing classes, near-inimitable) form: the collage memoir." More:
Skillfully mixing tones and points of view, Brainard mimics the randomness of perception, as well as the unpredictability of emotional associations. The reader continues to zig with his zags, as these lines are followed by "I remember living rooms all one color." We move in a blink from sexual secrets to pop-culture ephemera to sociological précis—the material is always kept in contrapuntal balance. Many entries begin, "I remember thinking . . ." or "I remember a story . . ." or "a daydream." Memories of memories send us spiraling down the rabbit hole: It's not just that we are always remembering, Brainard is saying, but that we are always remembering that we remembered.

Weighty as that idea is, it treads lightly through the poem. Brainard's comedic touch—a deadpan wit that veers toward sincerity rather than sarcasm—marks all of his writing. Reliant on nuances of tone and inflection, it is the kind of graceful, openhearted humor that barely claims its laughter upon reading, yet you recall and recount to others weeks later. In full, the prose poem titled "Ron Padgett":

Ron Padgett is a poet. He has always been a poet and he always will be a poet. I don't know how a poet becomes a poet. And I don't think anyone else does either. It is something deep and mysterious inside of a person that cannot be explained. It is something that no one understands. It is something that no one will ever understand. I asked Ron Padgett once how it came about that he was a poet, and he said, "I don't know. It is something deep and mysterious inside of me that cannot be explained."

Traditional tools are at work—alliteration, repetition, formalized diction—while the parodic intent is deftly turned. The coterie-style joke is on aesthetic theorizing and essentialist creeds (O'Hara's "Why I Am Not a Painter" is close kin here), but it's precisely this earnest intellectualism that sparks Brainard's deeper jest. This is a poet who candidly reports to Dlugos that the poetry of longtime friend John Ashbery is, "you know, over my head. . . . My mind wanders off." His sophistication was his simplicity.
Read the full review here. Also! We've just been pointed to (thanks, Mitch Taylor!) this recording of Brainard at St. Mark's in 1971 reading his poem "Van Gogh." "Van Gogh once said of himself, There is something inside of me. What is it."
Image at top: Frank O'Hara and Joe Brainard collaboration, "Is That the Height of Your Ambition, Johnny?" (1964) Collage and ink on paper, 10 1/8 x 8 1/8 in., Collection of Jack Larson, Los Angeles. Courtesy of Modern American Poetry.