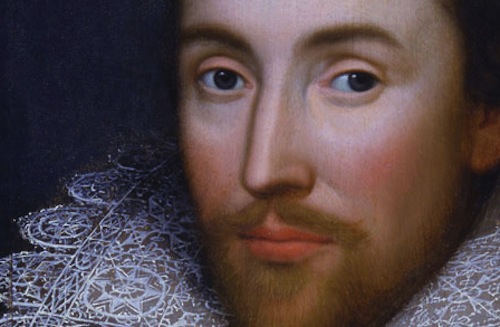 This article, from NPR, tells of the New York Shakespeare Exchange's efforts to broaden the Bard's appeal to younger generations and, of course, raise the money to do so:
The New York Shakespeare Exchange says its goal is "to encourage an enthusiastic appreciation of classical theater and to expand the reach of the art form within new and existing audiences." More specifically, it's interested in the question of "what happens when contemporary culture is infused with Shakespearean poetry and themes in unexpected ways."

What, exactly, does that mean?

The founder and artistic director of the company, Ross Williams, told me that in large part, it means exploring "how we can get Shakespeare to work for a new generation, for new audiences." And they're serious about changing up the setting where necessary: their projects include a Shakespearean pub crawl, where at each location, a scene breaks out. They call it ... Shakesbeer.

At the moment, their mission means the same thing it means for a lot of artists and arts organizations trying to come up with funds for small, medium-sized, and large projects. It means taking their plea to Kickstarter — a plea that ends Thursday night at 11:00 p.m.

The effort resides, logically enough, at KickstartShakespeare.com. It's a drive to raise $45,000, in large part to support a pair of upcoming undertakings. The first, called the Sonnet Project, means to create 154 videos of 154 actors reading 154 of Shakespeare's love poems in 154 locations in New York.
There is more to read, and videos to watch, after the jump.