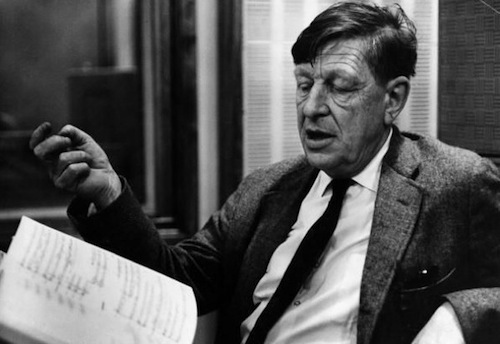 February House, a "a word-drunk new musical" that "shuttles organically between literary sense and harmonic sensibility" with W.H. Auden, among other luminaries, as a central character, opens Tuesday at Public Theater.
From this NY Times article:
Based on actual events, "February House" is about the serendipitous discovery, amid New York's crush of souls, of an almost perfect place. In this case that means a dilapidated house in Brooklyn Heights that became, in the early 1940s, a bohemian commune of sorts for intellectual misfits that included Auden, the novelist Carson McCullers, who was 23, and the composer Benjamin Britten, then 27.

The burlesque entertainer and aspiring writer Gypsy Rose Lee, then 29, also crammed herself into the house on 7 Middagh Street. Stirring Lee into this imposing bunch reminds you of something once said about Pauline Kael and The New Yorker magazine: She gave it sex, and it gave her class.

This group home was the brainchild of a fiction editor and bon vivant named George Davis, then 34, who acted as papa bear, therapist and swizzle stick. It was a utopian experiment like Brook Farm, the transcendentalist commune in 19th-century Massachusetts. Thankfully, as Auden declares in the play, it was Brook Farm "without the vegetarians."

"February House" is based more specifically on a nonfiction book of the same name by Sherill Tippins that was published in 2005.
Here's a bit on the pyrotechnics between Auden and Carson McCullers:
Sparks fly early and often. When Auden pretentiously blurts to McCullers that "I am a thinking-sensation artist in the Jungian sense, whereas you are clearly a feeling-intuitive type," she takes out a flask, eyeballs him as if were a space alien, and says: "Uh huh. Gin?"

Auden seemed to enjoy McCullers's impudence. He is, after all, the man who said, "Among those whom I like or admire, I can find no common denominator, but among those whom I love, I can: all of them make me laugh."

Auden and McCullers are a pure and defiant literary odd couple. Both stoke your imagination in "February House," in part because of their youth, in part because both wrestle with where their obligations to art end and their obligations to politics begin. They are increasingly obsessed with what Lionel Trilling, in "The Liberal Imagination," called "the dark and bloody crossroads where literature and politics meet."
Even more after the jump.