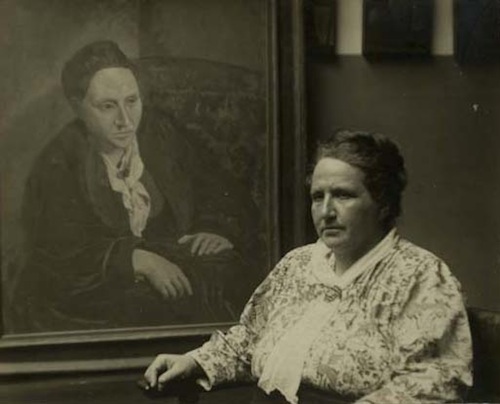 First, wow: "After Gertrude [Stein]'s friend Mabel Weeks heard [Four Saints in Three Acts] performed by Virgil Thomson...she opined, 'It would finish opera just as Picasso had finished oil painting.'" More from the website of The Metropolitan Museum of Art:
A few months [before the premiere in February 1934], the director of the museum, A. E. "Chick" Austin Jr., wrote Gertrude, "Preparations for the opera are going ahead very rapidly. Everybody concerned is delighted with the theatre, now almost complete. . . . Miss Stettheimer has made the most enchanting models for both settings and costumes in a style which is entirely new and unique and singularly appropriate to the mood of the work as I understand it. . . . I am convinced that you have found the only literary solution for opera in English and that Virgil's music sets it off to perfection." The opera was so well received that it was subsequently performed in New York and Chicago.
The Steins Collect, the exhibit that originated at SFMOMA last year, is now on view at The Met. They refer to Charles Bernstein's recent Jacket2 post about Stein's wartime involvement, also writing:
In 1938, when their landlord reclaimed the atelier at 27, rue de Fleurus, Gertrude and Alice moved to an apartment closer to the Seine. In the summer of 1940, Germany invaded France and seized control of Paris. Ignoring the American Embassy's repeated warnings to evacuate the country, Gertrude and Alice retreated to their rented house at Bilignin. Bernard Faÿ, a close friend, translator of Gertrude's writings, and Nazi collaborator, protected them. Gertrude did not purchase any art during the war. The German military was on the verge of confiscating her collection when Allied troops arrived in Paris in August 1944. For more information about Gertrude's life in Occupied France, see https://jacket2.org/commentary/gertrude-steins-war-years-setting-record-straight.
Multimedia program information on The Steins Collect can be found here.