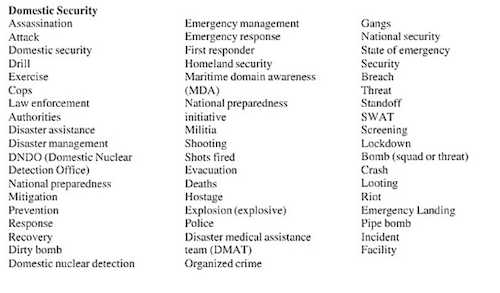 This post at We Who Are About to Die introduced us to this poetry contest started by Meg McLain.
She writes:
After reading Revealed: Hundreds of words to avoid using online if you don't want the government spying on you, I had a great idea of how to illustrate the ridiculousness of our government in using simple "words" as justification for spying on the American people (and us sovereigns too). So I'm officially launching the "Online Terrorist Keywords" Poetry Contest!

Here's how it works: Starting today, and ending 2 weeks from the posting of this announcement (that would be Tue. June 12th, at 9pm) I'm asking all who are interested to write up a poem using a minimum of 50 words from the "government keywords" list (see photos below). Post your poem in the comments section of this post. Be sure to include a title! Once the contest is closed, I'll repost all the entries and have open voting for 5 days. At the end of the voting, which ever "Terrorist Poem" is rated the highest will be used in an 11″ x 17″ poster that I will design, print, and send to the winner.

Good Luck!
Make the jump for the list of keywords.