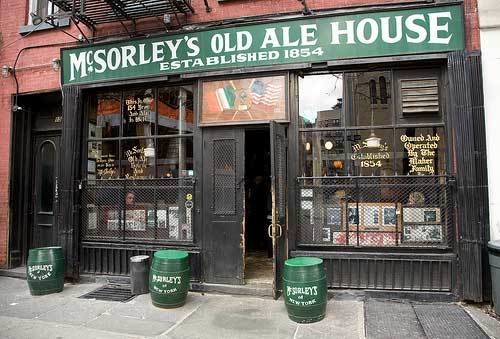 Our friends at the Paris Review point us to this news item from the Daily News about Geoffrey Bartholomew, the bard of McSorley's. Light or Dark is Bartholomew's second volume of poetry celebrating and chronicling all things McSorley's from the vantage point of a veteran bartender. As the article tells us, poets have been finding inspiration through the nectar of McSorley's light and dark libations for some time now: "The poet e.e. cummings had already serenaded McSorley's with a memorable 1923 verse, in which he called the joint 'snug and evil'." And then there's this little ditty from the December 1937 pages of Poetry. Bartholomew yolks the old with the new by combining history, personal experience and observations from behind the bar.
"Light or Dark" is focused on the bar's role in history and the countless visitors who have come to "look around, get drunk, tell a tale," as one poem has it.

Among the denizens Bartholomew pays homage to is Abraham Lincoln, who, legend has it, drank at McSorley's after speaking at the nearby Cooper Union in 1860.

There are also poems about Walt Whitman, Jack Dempsey and Civil War photographer Matthew Brady.

But Bartholomew knows that it is ordinary men and women (barred from the bar until a 1970 court order) who animate a place like McSorley's.

Remembering the days when his clientele was "a little rougher," he writes verses about "Tommy the four-eyed biker" and, in a lighter turn, of a "young lad picked up by blonde cougar."

There are confessions ("I slept with my best friend's wife"), altercations ("Pep threw out Wall Street suits snorting in the crapper") and lamentations ("the fleeting bastard Time"), all of which have sustained this watering hole for well over a century — and could well sustain it for yet another.

Bartholomew wants nothing less than that, for he makes no bones about McSorley's place in American culture, calling it "the most democratic bar in the country."
Make the jump to read the rest of the article, check out a video, and savor a few from Light or Dark.