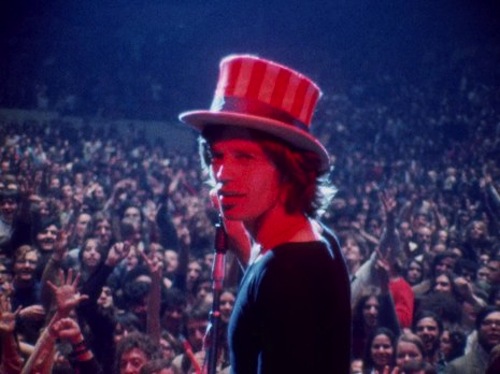 Coldfront's always enjoyable Poets Off Poetry features Rae Armantrout reflecting on a number of her popular music loves, including Dylan, Adele, The Decemberists, Leonard Cohen and more.
Here she weighs in on her favorite song, "Gimme Shelter," by The Rolling Stones:
"Gimme Shelter" from Let it Bleed is definitely my favorite song. This list will be in no particular order – but I will start with G.S. There are only a handful of songs that give me chills and this is one. What did Emily Dickinson say, "If I feel physically as if the top of my head had been taken off, I know…." Like all the music I like best, it is both ominous and alluring. I would even say it is horrific and beautiful. It is, one supposes, an anti-war song. "War children, it's just a shot away." Or is it a shout away? That makes a difference, of course. There can be a war in your bedroom that starts with a shout. Later, the singer Merry Clayton makes a guest appearance singing "Rape and murder, it's just a shot (or a shout) away" in an incredible high-pitched banshee yelp. And, with each new war, we learn again that "combat" segues smoothly into rape and murder. The greatness of the song, however, isn't in the lyrics. It's in the way the soundscape (and I would call it that) surrounds and supports the lyrics. The opening bars sum the song up. In them, a beautiful falsetto voice, singing only "Oooh, oooh," floats as if overhead while, underneath, as part of the rhythm track, there is the scratching of metal on metal. It suggests a ratchet or a vise being tightened.
So much more after the jump.
And since it's Friday, please go on and rock out!