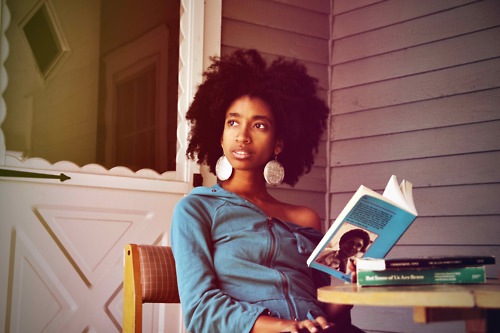 Over at the City Lights blog: Dr. Alexis Pauline Gumbs, the founder of BrokenBeautiful Press, talks about Kitchen Table: Women of Color Press, founded circa 1980 by Audre Lorde, Barbara Smith, "and other Black feminists after a meeting of African American and African Caribbean women in Boston." More about them:
They made the radical and brave decision to publish writings only by women of color, and over the next 20 years, their publications included Home Girls: A Black Feminist Anthology in 1983 and the second edition of This Bridge Called My Back: Writings by Radical Women of Color in 1984. Kitchen Table also published chapbooks, political pamphlets, and short story collections.
Alexis Pauline Gumbs discusses her own press's compressed name:
Q: Barbara Smith writes: "We chose our name because the kitchen is the center of the home, the place where women in particular work and communicate with each other." How did you choose the name BrokenBeautiful Press?

When I was in college and creating the first set of magazine collage books of my own poetry that would be the first products of BrokenBeautiful Press I was organizing the poems I had been writing in my short life, and not surprisingly a great mass of my poems were love/praise poems to Black women…my mother, my sister, my grandmothers, Amadou Diallo's mother and more and more. And so for that collection (with a beautiful brown cover like my own skin), I sought a word for what I was working through about the experiences and presence of Black women in the world, or at least in my world. And I had to push some words together. The title ended up being brownsweetbrokenbeautiful. That idea that the oppression we experience, our falling apart, our trauma that we are working through has a dynamic relationship with the beauty of our healing presence on this planet really struck me, so I named the press BrokenBeautiful, which of course could be a way of describing a conversation around a kitchen table. . . .
And the effect of Kitchen Table:
The energy that led me to create BrokenBeautiful Press came from a moment when a mentor of mine, black feminist literary scholar Farah Jasmine Griffin at Columbia University brought one of the Freedom Organizing Series pamphlets to her graduate seminar that I had shamelessly begged my underclass-woman-behind into. Those pamphlets were like some kind of talisman from a former life that clicked all my fascination and intensity into place. I don't know how to describe it, over and over again I am living out a thank you to Farah for letting me know, to Barbara Smith for first having the idea and for all the authors and Kitchen Table Press staff for making it happen. Those pamphlets hold a sacred space on the top shelf of my altar.

After seeing those brightly colored, adinkra-printed 8-by-11 folded cardstock pamphlets with the simple revolutionary pins attached (proclaiming in block letters "BLACK FEMINISM LIVES!" or "We Cannot Live Without Our Lives"), I couldn't look at piece of paper without knowing that I was supposed to publish in that form. I became obsessed. The brilliance of their act to create an accessible, attractive form for essays, speeches and poems of women of color feminists was so simple and priceless.
Read it all here.