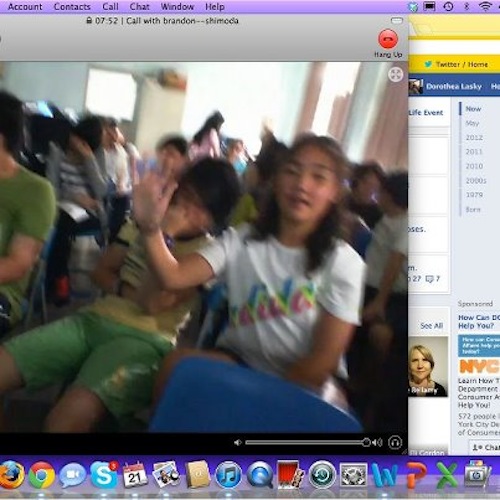 Wow: Poet Brandon Shimoda recently interviewed, with the help of a group of Tawainese students, Dorothea Lasky and Heather Christle, who are in Florence, Italy, and Stonington, Connecticut, respectively. "I think both Heather and Dottie were visiting us from haunted locations, though the nature of each location's being haunted was not entirely clear, but hovering about the periphery of their faces and their heads: furnishings and lamps in part possessed, ceilings on a mesmerized incline," he writes. Shimoda is currently living and teaching in Taiwan. Here's whatwhy, as told to Versal Journal:
I will be living for a month this summer in southern Taiwan with the poets Dot Devota, Molly McDonald and Zachary Schomburg. We will be teaching writing to middle and high school students. The work will consist of recording the days, as it always is, the work, so the atlas can be added to—on the wall, the walls growing higher seeming thicker, so when they finally touch where we are, that is it. Also: I'm co-editing, with my friend, the poet and critic Thom Donovan, a retrospective collection of poetry and prose by Etel Adnan, due to be published by Nightboat in 2013. And also, little-by-little, I am writing a book of non-fiction about my grandfather.
That's a great interview, too.
What has lasted you ten years?

"I am writing. Can you spare me ten years?" Pablo Neruda said this to Clarice Lispector in 1969.
As for the skype in Taiwan:
The students had been reading Dottie's first book, AWE, as well as poems online by both Heather and Dottie. Many of the students wrote imitations of Dottie's "Ten Lives in Mental Illness," coming up with their own mental illnesses by which to write poems. Many of the students wrote imitations of Heather's poems, "Five Poems for America" and "We Have to Account for Gravity." Some of the students translated both Heather and Dottie's poems into Mandarin Chinese. They were feeling especially shy, so could not be cajoled into reading their translations to Heather and Dottie. Some of the younger girls brought their stuffed animals to class. A pig, a chicken in a strawberry costume, a cat wearing a t-shirt, a pelican, a hamster. They too were present. . . .

I asked my students which lines in Heather's poems were their favorites. Many quoted the lines from "Acorn Duly Crushed." Giovanni's favorite line was, "Lost to me have been some lakes," from "Castle." Giovanni's sister Miranda's favorite line was, "I weep all night for my child," from "Because I am Looking to Complicate My Biography I Go Out to Buy a Tree." One student asked Dottie, "What did you mean the dog is made of snow?" That same student also asked her, "Why is love the answer to God's question?" We were gathered in Computer Lab 1 on the second floor of Kaohsiung American School on Sheng Li Road near Lotus Lake in the northern part of the city. It was raining, and has been raining for two weeks straight.