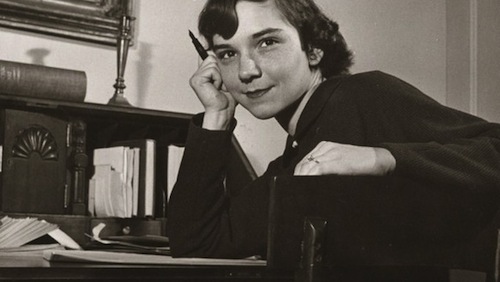 In the latest issue of Artforum, Elizabeth Willis writes a tribute to Adrienne Rich, detailing the scope and courage of the late poet's work:
[Rich] was a brilliant reader of surfaces, and of visual culture. Her imagination was—and is, within the present tense of her poems—sweepingly global, but it carries into the global "theater" a vision equally attentive to archaeological depth.

…As her public recognition and readership grew, the ambition of Adrienne's writing and the ferocity of her person pushed both her literary work and her civic engagement beyond canonical group formations. In 1974, she was awarded the National Book Award for her collection Diving into the Wreck, an honor she shared with Allen Ginsberg and that she insisted on sharing also with Audre Lorde and Alice Walker, who had books published the same year. She famously refused the National Medal of the Arts in 1997 to protest the Clinton administration's decimation of the welfare program and its disregard for the nation's growing racial and economic divide.
Willis also details Rich's personal life, and recalls her last visit with Rich in the poet's beloved library:
In the months before she died, Adrienne expressed sadness that she could no longer scan the spines on her bookshelves. In my last visit with her and Michelle, she asked me to read the titles of the books on and beside her desk. She wanted to be able to place who was with her in the room, to know their nearness.
Read the full piece here.