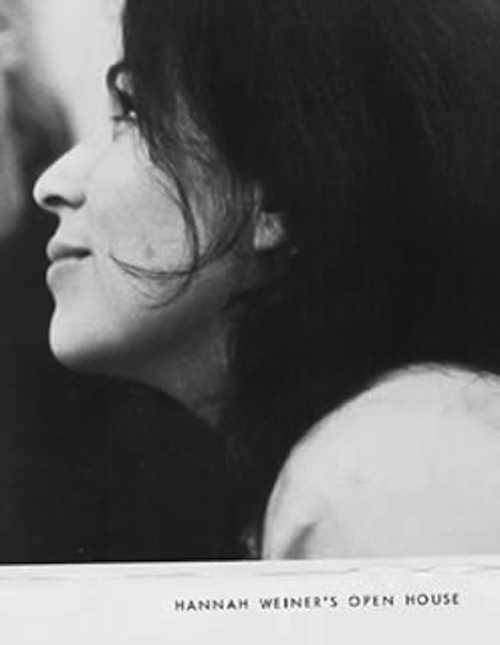 We are overjoyed about this one (had to). At the Rescue Press blog, Joyelle McSweeney reminds us how great Hannah Weiner's The Fast is (no, seriously): "I now think of the artist as a medium for media, saturated by media, possessed by media." In a short Q&A for Rescue's "Safety Book" series of posts, McSweeney thanks Patrick Durgin at Kenning, who published Weiner's Open House:
I believe that for knowledge of The Fast I am indebted to Patrick Durgin, who has been doing so much to make Hannah Weiner's work available . . . . By exposure to her writings, performance documents and recordings, photos, interviews, and other texts, I feel that I've become like an interactive surface or playback device for Hannah Weiner, I feel linked to her server, to switch metaphors, totally wired in. And of course she herself was a relaying device, totally wired in to her silent teachers who relayed text to her by making it visible on the air and on her body and on the world around her. . . . When I went and tracked down The Fast, which is her account of the fast which marked the inception of her clairvoyance, I was really amazed that such a slim book could make such a rupture in the world. It was like Augustine: Open the Book and Read. A cascade of linked possessions and revelations. Since then I've bought and lost several copies (that's the only drawback to such a slim volume! Too easy to lose!).
McSweeney also kindly excerpted from The Fast:
Monday FAST DAY 1, Oct. 26, 1970, Kevin came to take up and take home the blue nylon carpet. We sat having tea at the narrow counter that extends out from the double sink. "What is that terrible smell" said Kevin. "That is from the exterminator" said I "who came early this morning and exterminated for roaches and rats. Last week a rat ran over my hand in my very own bed." So we sat drinking tea. It was then I noticed a bright green triangular feather shape coming out of his right eye, a bright green feather shape with red and yellow streaks. It is remarkable to me now that I did not question the bright green feather shape. I simply got up and went shopping at the health food store. I bought Tiger's Milk, eyebright, fennel, fenugreek, rose hip teas, cashew nut butter, blueberry syrup and a little plastic bear full of honey. I had a large shopping bag full. What I didn't buy was a large bottle of thick pink liquid shampoo which I could have used later to help the pain. I had in my refrigerator four gallons of spring waterr and goats milk. I had two vivid dreams about pollution that night.

I quote at length here so you can see the infectious agent that is Weiner's prose. The short phrases in the long sentences addict the reader; you become just as feverish and worked up for each next phrase's revelation as Weiner. Meanwhile the sentences are also hilarious—by phrasal turns totally quotidian or cosmic. I love the grousing about the exterminator, followed by a spectral vision of her friend's eyes extruding feathers, followed by a matter of fact trip to the health food store. HW is a prophet who did a lot of shopping! Her accounting is really an accounting, a record of expenditures, consumptions, damages, impressions, favors, gestures, maneuvers, recoveries, witty remarks, revelations, and what each of these things cost her, in terms of pain, illness, solitude, assaults of the senses, etc.
Read it all here. And for more recent writing on Weiner's work, check out this April Montevidayo post, and of course the special issue of Wild Orchids.