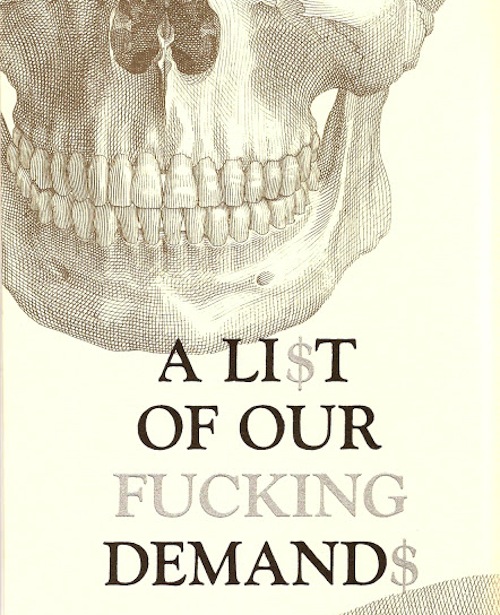 Just announced on Michael Cross's blog The Disinhibitor is the release of an anthology The Feeling I$ Mutual: A List of Our Fucking Demands, edited by Sara Wintz, and designed by Cross and Stephen Novotny. As Wintz has written, the book includes writing by "tons of incredible writers who contributed wonderful, beautiful responses to the very simple question: WHAT DO YOU WANT?" Her prompt went further:
"+hey: what do you want?+

-a partner?
-a baby?
-an end to capitalism?
-a job that <3s you? -a family that <3s you? -free healthcare? -student loan forgiveness? -to be able to get married? -a government that pays for art? -an audience/readership? -a bike? -a chicken coop? let's try to write it out, take a picture of it, draw a picture of it, journal about it... and then let's make a book out of our unique and special demands."
All proceeds from the anthology, which features work from Jamie Townsend, Andrew Kenower, Zack Tuck, Lauren Levin, Dan Thomas Glass, Anne Lesley Selcer, David Buuck, Alana Seigel, Alli Warren, Paul Ebenkamp, Cassie Smith, and many, many others, will support Small Press Traffic. Cross writes:
This is a GREAT WAY to support SPT from afar, too, so if you've personally read for SPT (but live elsewhere), or if you have fond memories of attending SPT events, please support the organization by picking one of these up! Ten bucks isn't going to kill you, but it will help us put together a killer season for 2013!