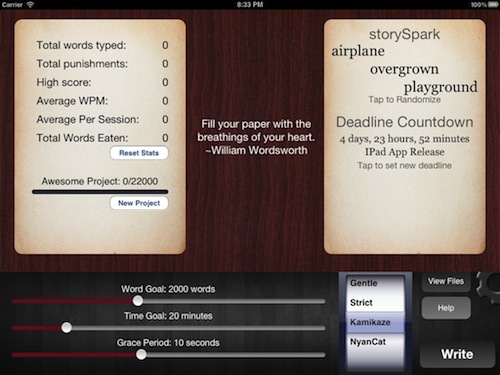 Looks like the oncoming summer is making writers a tad anxious. Huffington Post has a piece on "How To Remain A Poet In A Busy World." And Jacket Copy reports that a new app can change your life (it's called Write or Die, so). From HuffPo:
Here are some things you can do to stay in a poetic state of mind all day, every day:

Decorate with poetry. What better way to promote poetic thinking than to surround yourself with poetry? Try using a poetry-themed calendar or even framing and displaying your favorite poems. The more poetry you read and see on a daily basis, the more likely you'll live in a state of appreciation for poems.

Activate your senses. It's hard to write consistently if you keep setting up blockades on the inspiration superhighway. Keep listening, keep seeing, keep smelling, keep tasting, keep feeling!

Keep paper handy. With your senses engaged, you'll need to keep track of your thoughts. When you're already juggling homework assignments, doctor appointments, and shopping lists in your head, how can you remember that clever limerick you thought of on the subway ride to school? And what about that perfect edit to the last line in the second stanza that came to you during your lunch break?

Stash little notebooks in your car or around the house. Don't want the extra bulk of a notebook? You can always use your smartphone to document your thoughts!
Wow, those are really practical. We'd also suggest confining yourself to your apartment, mascara-staining your pillowcases over your relentless impoverishment, and lusting after the impossible; but hey, we're freelance.
As for Write or Die, it could really help:
Write or Die is made specifically to keep writers on task. It comes with the tag line, "Putting the 'prod' in productivity."

How the app works: Writers begin typing in the app's window. When the typing slows to a stop, there are consequences. The writer can set how severe those consequences will be. In "gentle" mode, a notice pops up with a kind reminder that it's time to start writing. In "normal" mode, the app begins to emit an unpleasant sound, which only stops once the typing begins again. In "kamikaze" mode, the app is set to destroy: when the writing has stopped for too long, the words begin to erase themselves. There is also a "nyan cat" mode, turning an Internet meme into a destructive force.

The message is clear: Keep writing, or else.

Write or Die started out in a desktop version, created by a "Dr. Wicked," and became available as an app for the iPad last fall. Why pay attention now? Turns out, its system of possibly disastrous punishments actually works.

That's according to Helen Oyeyemi, a British writer whose novel "Mr. Fox" just came out in paperback in the U.K. When asked for writing advice this week by The Guardian, Oyeyemi recommended Write or Die, saying, "Because, sometimes, fear is the only motivator."

The app version of Write or Die includes some rewards to go with its punishments, such as stats that tally progress toward writing goals. But the tone can still be intimidating: There is also a deadline countdown, keeping the hammer of doom looming.

The Write or Die app is $9.99. Such is the price of writing progress.