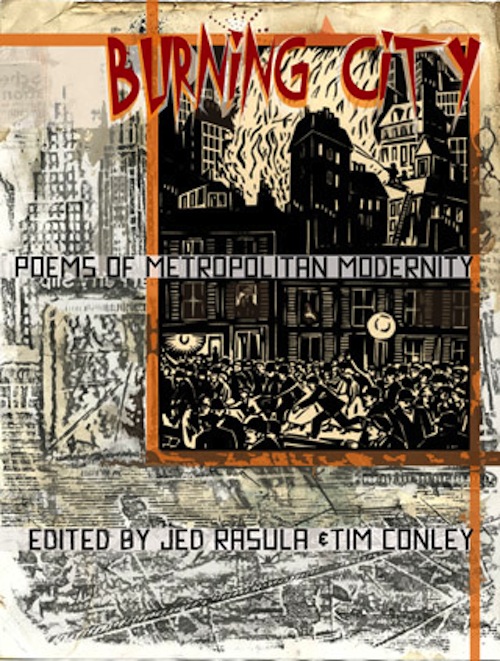 Over at Hyperallergic, Barry Schwabsky reviews Burning City: Poems of Metropolitan Modernity, a new anthology edited by Jed Rasula and Tim Conley (Action Books); in comparing it to Jerome Rothenberg's renowned Poems for the Millenium series, Schwabsky writes that Burning City is "far more historically contained and thematically focused than Rothenberg and Robinson's efforts (its time frame is approximately 1910–39) yet nearly as massive, therefore representing, perhaps, an even more assiduously revisionist literary archaeology." He also notes that the tenor of the book lies less in schools of Quietude and more in what Marjorie Perloff recently termed "the Futurist moment" in modernist writing. "'We still inhabit metropolitan configurations pioneered under the auspices of Modernism,' as the editors remark, and implicitly, we still write in ways conditioned by such habitation."
Apparently, "this [anthology] has clearly been fed on untold hours leafing through half- or entirely forgotten magazines in seemingly every European language." More:
...All the more astonishing, then, that this big, complex piece of publishing has been undertaken by a small press like Action Books. One would have thought this kind of project to be the preserve of the university presses—Imagining Language was an MIT product, for instance — but apparently these days such things depend less on institutions than on the heroic efforts of a few individuals. Action Books had long since won my admiration for its publications by contemporaries like Aase Berg, Lara Glenum, and Kim Hyesoon, but Burning City puts the press on another level altogether.

Given the book's sense of noisy surfeit, of polyphonic simultaneity, it might seem arbitrary of me to have chosen Futurism as the essential reference point for all the material Rasula and Conley have gathered when they themselves more broadly cite "such avant-garde labels as Paroxysm, Expressionism, Cubism, Futurism, Orphism, Simultaneism, Dada, Surrealism, and Constructivism." But Perloff's citation of a "Futurist moment" (rather than the Futurist movement) to indicate, in a "larger sense," as she says, "the arena of agitation and projected revolution that characterizes the avant guerre" seems useful: Futurism, as shown by Rasula and Conley's selection of works produced up through the eve of World War II, continues to resonate loud and clear through the decades following the Great War as these became another avant guerre in turn. More than any of the other avant-garde movements of its time, it seems to offer the template for all the rest, at least insofar as they affect a public profile (rather than, in that hermetic spirit which is also part of the same complex, turning away from the public altogether); it is Futurism that simultaneously manifests those qualities of activism, nihilism, agonism, alienation, experimentalism and so on that will be familiar to readers of Renato Poggioli's 1962 Theory of the Avant-Garde (translated into English in 1968) and which characterize the "ideograms of modernity" on offer here. The editors prefer to speak of "the Apollinaire frequency," and there are good reasons for that too.

The anthology is cogently divided into thematic sections which may be based on places (Paris, New York), forms of entertainment ("Parade of the Eccentric," which refers to music halls, cafes, and the like; "Cineland: Matinee" and "Cineland: Evening Show"), and modes of transportation ("Aviograms," "Ports of Call"). Other telling headings include "Poetic Circulation," "Electric Man," and "Lunar Baedeker." Many of the names you'll find nested under these rubrics will be familiar: Walter Benjamin, Louis Aragon, F.T. Marinetti, Velimir Khlebnikov, Ezra Pound, Attila József, Francis Picabia, César Vallejo, Vladimir Mayakovsky … And some of the familiar names will seem surprising — momentarily out of place — in this context: more restrained figures such as Virginia Woolf, for instance, or Rainer Maria Rilke, whom one hardly thinks of rubbing shoulders with the plebs, those "Millions of human vermin" who "Swarm sweating / Along the night-arched cavernous roads," as Richard Aldington has it, or exclaiming, with Valery Larbaud, "I rush into the wind with a wild wahoo!" It's good to have them defamiliarized this way. But more interesting than the defamiliarized—and far more numerous—are the absolutely unfamiliar names. There's something absolutely thrilling about being given a first peek at all these new/old figures: Dragan Aleksić, Humberto Rivas, Marcel Sauvage, Oliviero Girondo, Julian Pryzboś, Xavier Bóveda, and so many others—to cite just the first few names in the section titled "Multiple City."
Schwabsky also notes that "Women writers are in short supply here, despite the welcome occurrence of works by Claire Goll, Marianne Moore, Mina Loy, Elsa von Freytag-Loringhoven, and very few others."
While Rasula and Conley have clearly done their research diligently enough for me to assume that this is a realistic representation of the gendering of published avant-garde authorship in the period under consideration, the absence of a section on the conflicting views of women in this new "metropolitan modernity" is puzzling. To the extent that traces of the authors' understanding of gender can be found in their texts on other subjects, the implications can be dire; in the new poetry, as Imaginist poet Vadim Shershenevich insisted, for example, "the images should not lie down next to each other tidily, like convent schoolgirls retiring to bed in the dormitory of the reader's mind." Thanks for the advice, Vadim. Was there really no "Electric Woman" to rival the "Electric Man" dreamed of by these bards of the century's new urban realities? Or are the aggressiveness and agonism of the Futurist moment essentially the rejection of a supposedly feminine inwardness misperceived as mere somnolence?
Read the full review here--it also looks at Polish writer Bruno Jasieński (1901-1938) and the publication of his I Burn Paris (from Prague's Twisted Spoon Press). According to their site, "[i]t tells the story of a disgruntled factory worker who, finding himself on the streets, takes the opportunity to poison Paris's water supply." "'[T]he first edition of 140,000 sold out in a couple of days,'" quotes Schwabsky, "...Jasieński kept writing but was caught up in the Yezhovshchina, the great [Soviet Union] purge of 1937-38, and executed in 1938." The connect to Burning City:
...I Burn Paris shows intensively what Burning City shows in breadth: that the avant-garde literature of the period before the outbreak of the Second World War is still mostly unknown territory, and that we'd better not imagine that whatever poor excuse for a canon we've cobbled together out of it is not still to be revised....