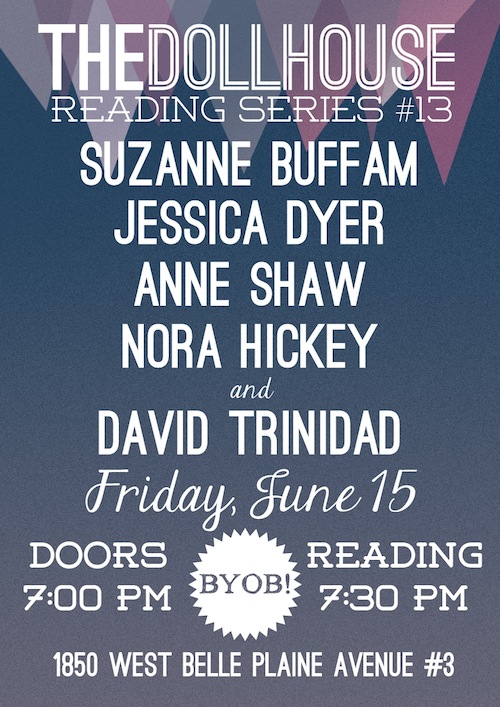 We've chatted up Chicago's Dollhouse Reading Series before. Now excited to see that they've put up quite a few recent readings on a new YouTube channel, The Dollhouse Reads. About the series:
The Dollhouse Reading Series began as a way to bring poets together to drink delicious beer and comfortably fraternize in a dim, yet perfectly lit, Chicago apartment. It remains a way to keep in touch with local friends and writers and to maintain that community everyone is so dead-set on being part of. Its humble beginnings inform its grand mission to promote and host the best poetry out there.
Here's Cathy Wagner reading "Regarding the Use-Value And Exchange-Value Of Orgasms, With A List Of Orgasm Analogues," which first appeared at The Claudius App:
http://www.youtube.com/watch?v=YT29BGc-9bs&list=UUYIDtFwTMRnbu7mAW9LYTuw&index=1&feature=plcp
Other writers featured on Dollhouse's channel include Adam Fell, Rebecca Hazelton, Ryan Teitman, and more. And if you're looking for the real, in-the-flesh sort of thing, stop over to the Doll House tomorrow for a great reading with David Trinidad, Suzanne Buffam, Jessica Dyer, Anne Shaw, and Nora Hickey. As always doors at 7:00 and reading at 7:30.