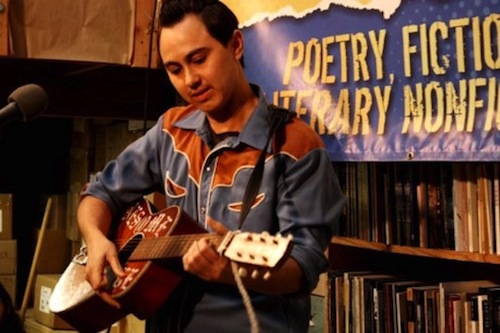 The City Lights blog is lighting it up with TONS of great writing and recordings by and about Julian Talamantez Brolaski. The occasion, of course, is the publication of his Advice for Lovers earlier this year. All of this is brought to us by way of Garrett Caples (recently published here, btw, and recorded here). Caples sets the scene this-a-way:
Back in April, City Lights released the 7th volume in our Spotlight poetry series: Advice for Lovers, by Bay Area poet turned Brooklynite bard Julian Talamantez Brolaski. Naturally, Julian returned to San Francisco in triumph to read from the book at City Lights, along with Micah Ballard, author of Spotlight #6, Waifs and Strays.

Two days later, many of Julian's poetic colleagues reconvened in Oakland at the house of Stephanie Young for a book party celebrating the publication of Advice for Lovers. Seeing as Stephanie's editorial acumen with her Bay Poetics (Faux Press, 2006) had alerted me to Julian's poetry, beginning the process that led to xir inclusion in the Spotlight series, I could imagine no better host for the celebration.

For the book party, Julian xemself played guitar and sang two original songs, "Down by the Border" and "Quarters and Dimes," solo, followed by duets with E. Tracy Grinnell on two Carter Family classics, "Anchored in Love" and "Lula Walls." There were also three performances inspired by Julian's book. The first of these was a video response to Advice for Lovers by Erika Staiti:
Head over and check out Staiti's video response. Then go on and read Cedar Sigo's fabulous poem-as-response to Advice for Lovers. And lastly, Andrew Kenower had the foresight to record these happenings. Press play below and hear Brolaski get a little country, Sigo's poem, and a very very spirited rendition/riff of a line from Advice for Lovers, led by Brandon Brown.
http://youtu.be/lFHe-jDtMy0
And if that wasn't enough, check out this recording from City Lights featuring Brolaski and Micah Ballard.