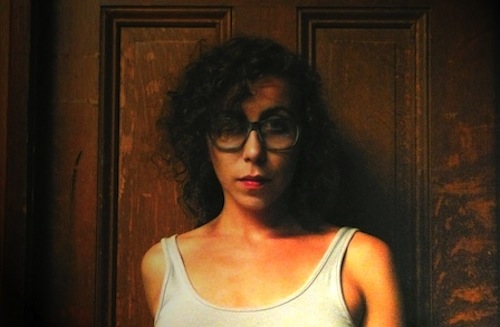 Over at the Boston Review, B.K. Fisher reviews Ariana Reines's Coeur de Lion and Mercury, writing that, though she may be today's most "sexually explicit poet," flirting with mysticism, that Reines is not a spiritual poet:
...Her poems contain no trace of religiosity or theological hope, and she mentions sacred agendas with comic deflation ("I would be a Catholic in New Jersey if I could"). Glib and garrulous, she traverses hyper-charged realms where contemporary verse culture crosses with Internet pornography, medieval literature, performance art, popular media, and cultural theory, yet beneath all the mess is an intense striving that is hard to pin down, the yearning of a solitary soul in extremis. An unlikely and sex-obsessed prophet, Reines augurs a new direction in contemporary poetry—a disturbing, contradictory offbeat breach of cool that verges on the uncanny.

• • •

The paradoxical project of the erotic sublime is not new. Many poets have adapted and refracted stances that entwine sex and spirit, from Sufi mystics to the Metaphysicals to Blake. Think of Keats's lavish yearnings to unite soul and eros, or Gerard Manley Hopkins's ability to convey sensuality-in-prayer to the point of combustion (albeit repressed to the nth degree), or Elizabeth Bishop's oceanic knowledge, "dark, salt, clear, moving, utterly free, / drawn from the cold hard mouth / of the world." Recently, within and against this Romantic strain, we've heard from Mark Doty, Jill Alexander Essbaum, Susan Mitchell, Carl Phillips, and Michael Waters. In her class "Prayer, Despair, and Ecstasy," Reines teaches "Celan, Césaire, Cohen, Conrad, Donne, Plath, Rankine, Rimbaud and others, plus hymns, sutras, curses, and magic spells from Ancient Greece, contemporary Salem, Haiti, and Appalachia." She takes her place alongside these diverse influences, but with a uniquely contemporary edge.

Reines's two recent books, Cœur de Lion and Mercury, continue the systematic deconstruction of the dichotomy between sacred and profane that she began in The Cow (2006). Her work epitomizes what Lara Glenum and Arielle Greenberg have termed the "Gurlesque," a radicalized poetics of feminist rupture that employs sexual effrontery as a means of exposing the limits of gendered conventions. Reines is the Gurlesque's most explicit poet and also its keenest intellect—the raunchy surface of her work belies its cognitive difficulty, the strenuous demands it places on the reader to synthesize its imagistic sensuality, semantic riffing, and capacious range of reference. In Mercury, Reines reflects on her process: "I began to write in an ugly way / To subtract myself from womanhood and see only / A person in bas-relief with crucial parts and cartoon / Grief. "

Her investigations of subjectivity and aestheticization are steeped in highbrow theory, and her methods are consciously self-reflexive, but she returns again and again to the fundamental sources of human grief. "I am interested in how suffering's housed and passed down through crotches," she explains in an interview. Pathos has its root in suffering, as does passion, and Reines edges us toward the horror and frenzy of Passion with a capital P. Cœur de Lion reprints Reines' self-published 2007 epistolary poem about the end of a love affair. Documenting consummation and break-up, it explores the ". . . many / Kinds of transmission / Between people. / Stronger things than sentences. / Liquids, exhaled / Words on top of them. / Where is the 'you' of You / Tube." (That move, from declarative libidinal performance to wry comment on modern media, is signature Reines.)
Read the full review here.