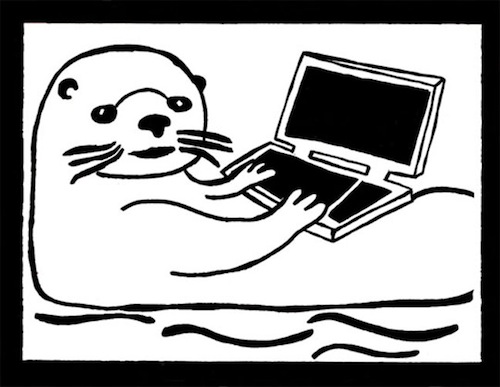 We pointed you to a lot of summer poetry festival fun already--and then again--but now you must put your cornflakes down for the Boog City Poetry and Music Festival, which is celebrating the press and community newspaper's 21st anniversary. It's coming to New York City in August! According to Boog City editor and decorated host, David Kirschenbaum, "[the festival] will feature 51 poets, 12 musical acts, 6 political and radio talks, 6 poets theater plays, 1 workshop, and 1 panel over the four days."
All the greatness will land on Thursday, August 2, and last until Sunday, August 5, taking place at Brooklyn's Unnameable Books and NYC's Sidewalk Cafe. Festival highlights include:
—our d.a. levy lives series kicks off its 10th season devoting a night to Philadelphia's Turtleneck Press;

—The Prose Pros Corpse is Exquisite! has Elinor Nauen and Martha King's Prose Pros series joining the festival for the first time with a special edition event featuring mystery readers from the first five years of the series;

—Our 39th Classic Album Live show has Sleater-Kinney's, Dig Me Out, performed live by five local musical acts for its 15th anniversary;

—Our 9th annual small, small press fair, with exhibits from a host of small presses, and readings by their authors;

—Never-ending Participation: Activism and Occupy Wall Street, a panel curated and moderated by Brenda Iijima

—Our BoogWork series, featuring poet Tyrone Williams reading and then giving the gathered a poetry workshop;

—and our Third Poets' Theater night, featuring a host of short plays.
Poets reading at the fest include:
Jillian Brall, Richard Deming, Amanda Deutch, Ted Dodson, Claire Donato, Thom Donovan, Sam Donsky, Rita Doyle, Micah Freeman, Ed Friedman, Drew Gardner, Jamie Gaughran-Perez, David Henderson, Barbara Henning, Laura Henriksen, Jeff T. Johnson, Jamey Jones, Patricia Spears Jones, Rebecca Keith, Krystal Languell, Dorothea Lasky, Bridget Madden, Dawn Lundy Martin, Kristi Maxwell, Soham Patel, Guy Pettit, Judah Rubin, Metta Sáma, Alan Semerdjian, Sara Jane Stoner, Yerra Sugerman, Michelle Tarransky, Genya Turovskaya, Ken Walker, and Angela Veronica Wong--with a special workshop and reading from Tyrone Williams, as mentioned above.
The full lineup, schedule, and participant bios can be found at the Boog City Facebook event page. See you there!