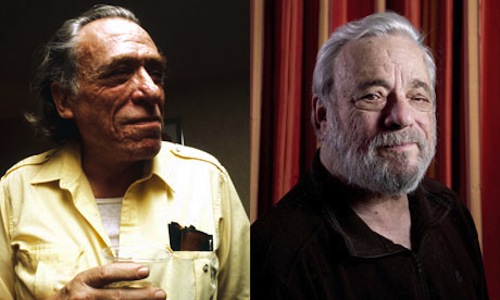 The Guardian informs us that a musical collaging the writing of the late Charles Bukowski with the music of Stephen Sondheim (!!), conceived by the California Repertory Company of Long Beach, CA, is set to be produced in November. The strange details:
Joanne Gordon, artistic director of the California Repertory Company, came up with the idea for B.S.: Bukowski.Sondheim. Both Sondheim and the estate of Bukowski have agreed to the production, which is described as a "scintillating piece [that] combines the poetry of Bukowski and the music and lyrics of Sondheim to reveal the sublime BS of life".

Gordon told the New York Times that the heavy-drinking poet Bukowski and the lyricist and composer Sondheim were "the two icons" of her artistic life. Although she admitted the duo were "an unlikely pair", she said that they both spoke "to the impossibility of being alone and the impossibility of being in a relationship. There was a recognition of that kind of painful tranquillity."

"I have always been moved by a central passion that is so similar in the works of these creative giants, one that has always engendered a fission in my soul," Gordon said. "As a young person growing up in South Africa obsessed with Sondheim's music and Bukowski's words, I never dreamed that one day I would be given this opportunity to explore their work in a unique theatrical way."

The production, she said, would be "a mélange", or a "collage", of the two artists' works, rather than a traditional musical. Bukowski's widow encouraged her to "go ahead" with the show, and Sondheim also gave his permission. "I wrote this long and sort of heartfelt justification," she said, "and he wrote this very brief – 'I'm old, Joanne, but I know who you are. Go ahead.'"