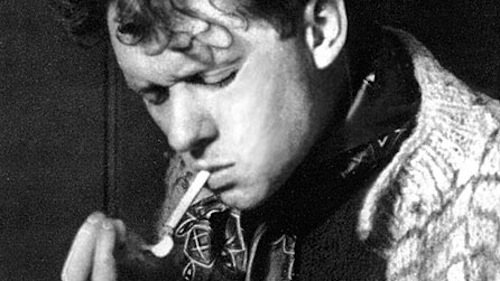 That's right. Dylan Thomas has unfortunately gone gentle into that good night...
See this, from Wales Online:
He has influenced film-makers, rock stars, politicians and generations of writers the world over.

But an international expert on Dylan Thomas has accused the academic world of ignoring the Swansea-born poet's wide-ranging volume of work.

Swansea University's Dr John Goodby claims there has been no full-length academic study of Thomas' poetry since 1966 – the year England won the World Cup and three years before man stepped on the moon.

His own academic study, The Poetry of Dylan Thomas: Under the Spelling Wall will be published in Spring 2013 with Liverpool University Press, and he is editing a New Edition of the Collected Poems of Dylan Thomas.

Dr Goodby, based in the College of Arts and Humanities at Swansea University, said: "Thomas' poetry was more translated than that of any other English language poet of the 20th century apart from TS Eliot.

"And Dylan Thomas societies flourish in as far afield as the USA, Canada, Japan, Poland and Australia.

"But Thomas is currently neglected in academia, the last major study of his works being done by an American, William T Moynihan, back in 1966.

"There have been short studies done by respected Welsh academics, notably Walford Davies, but no full- length examinations.

"I think the academic world turned its back on Dylan because he kind of fell between two schools.

"English critics believed WH Auden was the great writer of the 1930s and '40s and many Welsh critics believed Thomas was 'not Welsh enough' maybe because of his stilted, BBC accent.
Scholars! You know what to do, right?
...rage...