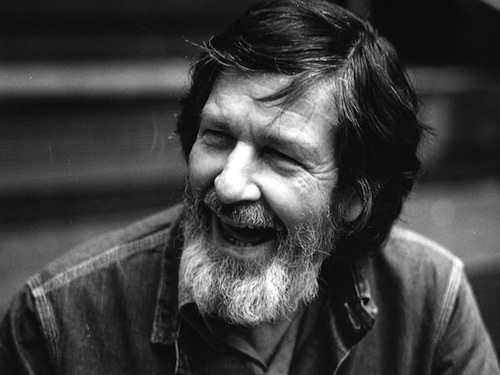 For those of you in New York and dying to see some John Cage durational performance, look no further. Experimental theater troupe Varispeed Collective will be presenting Cage's Empty Words from Friday Aug. 3 at 8:00 PM directly until Saturday Aug. 4 at 8:00 AM. More details:
Following their acclaimed reimagining of Robert Ashley's Perfect Lives as Perfect Lives Manhattan, Varispeed tackle John Cage's epic, rarely performed Empty Words. This overnight realization on Cage's centennial is a meditation on the voice's power to transform language into music. Varispeed's new arrangement will lead audiences on a 12-hour journey of sound, from an ensemble of electronically manipulated and mutated song in the concert hall of Roulette to the noise of naked voices on the Brooklyn Bridge at dawn.

Written in the early 70s, Empty Words stands as an epic culmination of Cage's exploration of the "demilitarization" of syntax and the voice's power to evacuate meaning and create music. Using Thoreau's journals as his source text, Cage employed chance procedures to remove all syntax from the original, creating four separate movements through which the level of textual abstraction grows.

Part One (utilizing phrases, words, syllables, and letters) begins in the concert space of Roulette, employing multiple performers and theatrics to employ the musical extremes of language. The performance then moves to the new music community space Exapno, where Varispeed transform Part Two's words, syllables, and letters into new spatial arrangements. Peppered with food (and perhaps a nap), Part Three scatters syllables and letters around the building in a performance that is both a participatory scavenger hunt and a solo lecture. In conclusion, listeners will become performers on a communal sound walk through Downtown Brooklyn across the Brooklyn Bridge at sunrise, vocalizing the letters of Part Four in equal partnership with the surrounding urban "silence."
Varispeed Collective member Dave gives us a look at what the performers might endure:
The challenge of Empty Words is in a totally different direction. These are not stories, they're ideas. While poring over the text has revealed beautiful minor narratives in how Cage put the thing together, these details will never be apparent to the first time listener. We're trying in this realization to highlight natural states and processes, and the kinds of connections that listeners make with this material is more like looking at a compelling painting than listening to a well-told joke. The state of performing for the five of us is also significantly different – rather than 30 minutes on, 90 minutes off as we did in Perfect Lives, we're now going for 2.5 hours performing and then we have only a 30 minute break (during which we'll attempt to set up for the next episode, mingle, and rest our voices). Having performed long Cage pieces before, such as the Concert for Piano and Orchestra, I fully expect a lot of mental wandering. But the benefit of such long stretches of time, four of them back to back, seem to me to be ultimately a focusing device. Particularly in Episode II, when we'll be performing simultaneous solos for the duration of the episode, I'm looking forward to a beautiful ebb and flow of focus. Not that this will likely be outwardly apparently to any major end, but it's a special variation on trying to pay attention to a long performance – trying to be clear & compelling at length despite weariness and while trying to execute a nuanced task. I feel like that's a big part of the mission of Varispeed – putting ourselves in situations where we can push ourselves in this sort of way and delivering it to you in a way that initiates a similar process on your end. Flesh is being added to the bones of this hope as we speak, but come by on August 3rd & 4th and maybe you can find a kind of focus that you didn't know was there before.
Listen to a sample of the sound below.